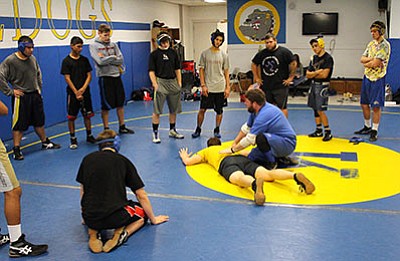 Originally Published: December 24, 2015 6 a.m.
KINGMAN - He and his team once again burned miles along Arizona's highway system after last weekend's Veterans Memorial Tournament in Window Rock, and the source of satisfaction is the same as it has always been for Kingman High wrestling coach Brandon Clor, now in his 10th season leading the Bulldogs.
"I love when we finish a day, we're on the ride home and we have something to show for it," Clor said. "If you had talked to me 10 years ago and said that I would be regularly bringing back trophies to our wrestling room, I would have told you that you were out of your mind."
Kingman brought home the third-place team trophy from the Window Rock tournament that featured 16 teams. Four Bulldogs took first and all but three who made the trip medaled.
In his nine completed seasons, Clor has coached nine wrestlers who placed at the end-of-season state tournaments. He's has a solid class this year with six serious contenders: Christian Barrios (17-3 at 113 pounds), Mason Wester (19-2, 145), Danny Taylor (10-3, 152), Joshua Schreuder (10-3, 182), Conner Mahlmeister (20-3, 195), and Humberto Ayala (14-3, 220). Clor has built successful wrestlers during his tenure, but more importantly, he's building quality young men with his program.
Jeremy Alder graduated KHS in 2010, and under Clor he came in sixth place in that year's state tournament at 189 pounds, going 24-11. Today Alder lives in Washington driving commercially for Lowe's Companies Inc. Alder said he's got a serious itch to follow Clor into coaching.
"I firmly believe his ability to coach me specifically allowed me to have the success I had at KHS as a wrestler," Alder said. "I would kill for an opportunity to co-coach with him at Kingman High right now. He is just a fun person to be around and one of the best coaches I've ever had the pleasure of participating for."
Both Alder and Keith Milkie, a two-time state placer at 215 pounds in 2010 (sixth place, 37-8) and 2011 (fourth place, 35-5), both describe Clor as their mentor. Milkie has embraced life since graduating KHS and is a model and actor living in New York City. He said Clor's motivation not only brought success to him but to the entire team as well.
"Clor's countless opportunities and belief helped drive me to my best athletic potential," Milkie said. "He is a mentor, friend and my coach. Thank you for your gift, coach, and for the memories that will stay with me for a lifetime."
Clor doesn't just work to set his wrestlers up for their next steps in life. He also takes pride in training up his assistants so they can move on and build their own programs. Just last Friday, Dan Ondrejka became the varsity coach at Lee Williams and left being Clor's assistant at KHS.
"I'm disappointed because I lost my assistant coach," Clor said. "But I am proud because I got Dan to that position, and that's what I endeavor to do with my assistant coaches."
Ten years ago, Clor came to Kingman as a first-year teacher from Illinois without any coaching experience, but he had wrestled in college. Then KHS athletic director Tim Casson took a chance on Clor, and he's been passed on to current athletic director John Venenga.
"I can't say enough that I'm only here because of Tim Casson," the coach said. "And John Venenga is trusting me to be successful and allow me to run the program the way I have."
Before the team left Window Rock for the trip home, they went to buy T-shirts. The man selling the shirts saw Clor's Kingman High gear and asked the coach if he was from Kingman and how did he like it.
"Yeah, it's my home," the coach said. "I was married here, my son was born here, and he goes to school here. I'm more Kingman than I am Illinois."
And that means Clor will put on many more miles traveling to and from wrestling meets and tournaments. And bringing home plenty of more hardware for the wrestling room.