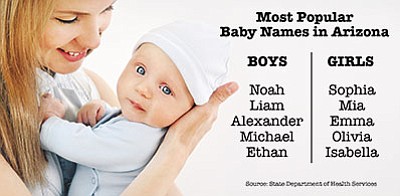 Originally Published: December 30, 2015 6 a.m.
PHOENIX - Where have all the Jennifers gone? Or, for that matter, the Amys, the Michelles and the Heathers?
Well, they've been replaced by little girls with names like Sophia, Mia, Emma and Olivia. Those are the most popular names for girls born in Arizona this past year according to records kept by the state Department of Health Services.
So how much have things changed? Jennifer, the top name for girls born in 1975, has been making a slow, steady disappearance. By 1985 it had slipped to third. And a decade after that, it barely hung on to its Top 20 status at No. 17.
Now? Those health department records can't even find it in the list of the 100 most popular names. And that says something: Not making it to even No. 100 means that fewer than 65 parents in the entire state in 2015 decided they like that name for their new daughters out of probably close to 45,000 girls born this year.
The decline has been even more precipitous for some of the other popular names from 40 years ago. Think about how trendy was the name Heather. It even sparked a 1989 black comedy movie about a clique of girls, all with the same name, who play the very spoiled teen queens of their high school.
Well, the Department of Health Services reports that Heather did not even show up in the 100 most popular names for girls in 2015.
That's not to say there is no consistency. Take Elizabeth, for example. It has never topped the charts. But 40 years ago it was No. 15; it shows up again this year one slot below that.
Things are a bit different for boys. Some names, particularly with biblical roots, never seem to go away, like Michael, Daniel, Matthew and David.
But even relying on the Good Book for baby names isn't necessarily consistent. Noah, for example, was nowhere to be seen on the 1975 Top 20 list. Yet it leads the pack this year.
By contrast, you won't find that many Johns any more. And it's not just a matter of names from the Bible. Consider: When was the last time you met a baby named Richard?