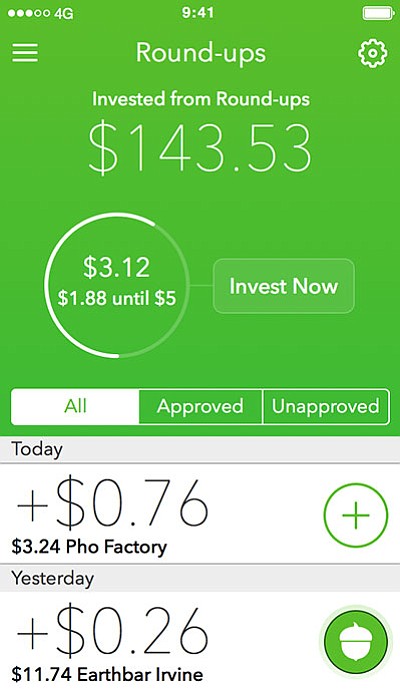 Originally Published: December 31, 2015 6 a.m.
KINGMAN - Retirement usually isn't something a 20-something-year-old actively thinks of. With the retirement age at 67, and with signs that the age might get bumped to 70, financially planning for life more than 40 years down the road is difficult.
Tech-savvy groups recognized this and saw a whole new market for financial services catered to fresh, young investors who are looking to start somewhere and start small. In the last few years, a group of apps have aimed to make do-it-yourself investing easy to start and easy to maintain, and it's working.
It's something different from a traditional employer-run 401(k) plan, and it might spur younger people to think more about investing for the future.
"Basically, the kids need to invest," said Monica Busch, who operates Monica J. Busch Investments here in Kingman. Busch primarily works with businesses in town to set up retirement plans for their employees, and she's seeing the need for young adults to start thinking about retirement now.
"The problem we have now is, the kids that are 25, if you're looking at saving $500 a month, they'll be lucky to have a million by retirement. But at that age, that's nothing," she said.
It sounds scary, but Busch argues that it has to be. She's seeing retirees outlive their retirement money, and "they can't go make that money again." She's also seeing the baby boomers starting to draw on Social Security and, with not enough people putting in, Busch is uncertain when it will disappear.
So how do these apps play a role in investing?
Well, they soften the blow for people with very little money to start, and they serve as education tools to learn how their money can accrue over time. Some start as little as $5, and can auto-deposit into portfolios created for your situation. Others encourage access to the stock markets by getting rid of trade commissions.
And while most people with traditional retirement accounts through their employer or working with financial planners like Busch won't benefit from dumping their retirement into one of these programs, those looking to learn the basics of investing with very little capital up front may find some value here.
Education is the key, according to Busch.
"Any education that kids can get now and ways to help better themselves is a plus as far as I'm concerned," said Busch. "The thing is, it forces people to get involved in the way people invest. That's why you hire someone like me because I do that for my clients."
Here are four of the apps taking off in this new app-centered investing market:
Acorns
(iOS, Android, Online)
Fees: $1/month for accounts under $5,000 or 0.25%/year for accounts over $5,000
Free for students, anyone under 24
Acorns uses the "penny-jar" approach to invest pennies, or "Acorns", from everyday purchases into one of five portfolios. Each portfolio is comprised of exchange traded funds, or ETFs, of large company, small company, emerging market, and real estate stocks as well as corporate and government bonds. The ETFs come from asset managers such as Vanguard, BlackRock and PIMCO, and each of the five portfolios are developed with help from Dr. Harry Markowitz, a Nobel Laureate who is known as the "Father of Modern Portfolio theory."
Users link their bank accounts to Acorns, and Acorns automatically invests change into the user's account, called a "round up". For example, when a $1.25 purchase is made at the supermarket, Acorns rounds up the purchase to $2.00 and invests the $0.75. Users can also make auto-deposits or one-time deposits at their discretion.
Robinhood
(iOS, Android)
Fees: Free trades, transfers
Robinhood is one of the few hands-on investing platforms out there that can truly boast $0 commissions for trades. The company acts and functions as a traditional broker, buying and selling in real-time based on money deposited into a Robinhood account. Traders can do traditional market orders, limit orders, stop limit orders, and stop loss orders.
The founders of Robinhood, Stanford University graduates Vlad Tenev and Baiju Bhatt, sought to democratize access to financial markets after learning that electronic trading firms "pay effectively nothing to place trades on the market" while "everyday investors were taxed up to $10 per trade."
Robinhood makes its money off of accruing interest from customers' uninvested cash balances, but stresses that "customers are not charged" for funds that aren't used. They plan on implementing margin trading in the near future.
Stash
(iOS, Android, Online)
Fees: $1/month for accounts under $5,000 or 0.25%/year for accounts over $5,000
Stash is the new kid on the block when it comes to micro-investing and operates much like Acorns in how portfolios are run. Investors can start as low as $5, and investors can chose from one of 30 ETFs to invest in. The ETFs are constructed to fit certain themes like "American Innovators" or "Clean and Green," and, also like Acorns, are managed by groups like Vanguard and Charles Schwab.
Stash tries to stand out of the pack by offering a more diversified amount of ETFs for investors to choose from, including groups such as Berkshire Hathaway.
Betterment
(iOS, Android, Online)
Fees: 0.35%/year on accounts less than $10,000, 0.25%/year on accounts above $10,000
Betterment combines the hands-off approach of Acorns with the diversity of Stash, and then some. The company operates much like a traditional investment service, offering IRA, Roth IRA and 401(k) accounts in addition to its individual accounts.
The company utilizes an auto investing tool called "SmartDeposit," which works much like an auto deposit with customized settings. Betterment can monitor your checking account for excess cash above a threshold you give them and then deposit it to your selected goal when it's appropriate to do so. The idea is that cash in your bank account won't be sitting idle. Betterment advises that "cash that's not invested in the market could cost you thousands of dollars in foregone returns over your lifetime," and that with proper budgeting the application can invest the surplus.
Personal experience
I took a pair of these apps out for a test spin. I used both Acorns and Robinhood for about two months now. Acorns fit my needs well as, for this test, I wanted to siphon a little money here and there over time versus putting money in up front. As for Robinhood, I wanted to invest in select companies as well as learn more about concepts such as dividends, betas, volume, and in general how to follow a company and understand how certain financial news influences value.
With Acorns, I started out with a $10 deposit and strictly used roundups to invest. Over the course two months, I deposited $277.48 and had an account value of $273.00, with a total loss of -1.61%. I found that my account didn't see any positive yields until my account reached well over $100. Most of my losses stemmed from two really bad trading days last month. I chose a Moderate portfolio, where over a third of my money is going towards corporate bonds.
I had no issues with Acorns, and the UI is easy to navigate and understand. I can check on specific ETFs to see how they are doing, and the app kindly notifies me when I have a dividend coming.
It's been a very enjoyable experience so far, even with the losses. The entire process is very hands-off and, most days, I don't need to check it. I'll have to monitor it over the long term to see if I can overcome the $1/month fee.
Robinhood took up much more time than Acorns, as I had to be hands on and choose stocks I wanted to buy. I put in around $300, and it took three days for the deposit to appear in my account.
There isn't a lot of diversification I could do with $300, so I looked at scooping up a couple big stocks with consistent dividends and a low beta. I settled on Johnson and Johnson, Microsoft and Intel. I'm familiar with all three products and how the companies are run.
From there, I spent a great deal of time looking at stocks that were rising and dropping, and ones that the analysts were saying were "good buys." I'd scoop up a few shares and wait it out. If a particular stock was volatile, I'd put either a limit sell or a stop loss order so I could get out at the right time.
Monitoring the market over two months isn't a good indicator of how long-term investments are doing. As a newbie, it was tough to watch my stocks tank on Dec. 11 just to watch them bounce back the next day.
What I liked most about Robinhood is how it filters feeds from the stocks you currently own. For example, I scooped up Emergent Biosolutions Inc., a vaccine maker. They got approval from the FDA for use of their anthrax vaccine. The stock jumped as a result. I was able to get that news item concurrently with what I was seeing in my account, which helps me as a new investor to understand how company news can influence stock value.
I'll probably stick with the two for the time being. There are tax implications that I have to grasp, as well as understand how to optimize my gains over time. Two months is a short time in the investing world, and October was particularly turbulent as far as the market was concerned. Patience is key, and for groups like Johnson and Johnson or the ETFs that Acorns is investing in, I'll need to look at my gains over a longer run.
Busch echoed that long-term investing mentality, especially for younger people like me.
"The earlier you invest, the longer you have for your investments to grow, even in a down market. You don't sell in a down market. People panic, they lose their money and can never make it back," said Busch.