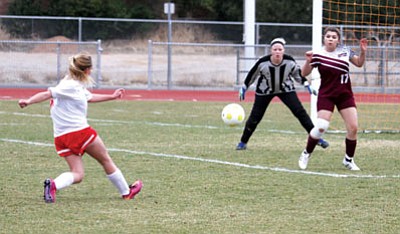 Originally Published: February 1, 2015 6 a.m.
KINGMAN - The first-ever soccer seasons at Lee Williams High School came to a close Thursday when the boys and girls each hosted Odyssey. The Vols won both while posting a pair of shutouts, 9-0 for the girls, 4-0 for the boys in the nightcap.
The Lee Williams girls (2-10 overall, 2-7 Division III) held a 5-0 lead at intermission behind two goals from Maddy Tribbett and single goals from Corrine Ficarella, Elsie Moya and Brooke McFarland.
"Our defense was solid and our keepers - freshmen Katie Oliver and Christina Valencia - were both on their game," said LWHS girls soccer coach Tom Poole. "All the girls came to play today, and it showed."
In the second half, Tribbett made it a hat trick with her third goal. Ficarella and Valencia added their second goals and Marilyn Svhil scored.
Earlier in the season, the Lady Vols beat Odyssey, 7-0.
"We've obviously improved a lot since the last time we played them," McFarland said. "And they've improved, too."
The junior believes the Lady Vols have come a long way since the season began back in November.
"We had our good moments and our rough moments," McFarland said. "I'm proud of everybody. We went from not knowing each other to having a team bond."
In the boys match, Lee Williams controlled the game by keeping Odyssey from getting off even one shot on goal. The Vols got on the board in the eighth minute when Carlos Castaneda delivered a beautiful cross pass to Justin Sturgill, who took the ball out of midair and redirected it past the Odyssey keeper.
"He's a good player," Sturgill said of Castaneda. "His throws and crosses are phenomenal. I enjoy playing with him."
Sturgill scored again just 23 seconds later when he dribbled through the Minotaur defense. Michael Mendola scored from 25 yards out in the 23rd minute, and Dylan Good added the fourth goal in the game's 48th minute.
"It was just our passing," Sturgill said of the Vols' dominance over Odyssey. "We were working as a team and creating."
Lee Williams finished the year 5-11 and 5-6 in D-III. It has Sturgill and his teammates looking forward to their first season with seniors on the squad.
"I feel pretty good for our first varsity season," he said. "Without having seniors, we showed what we are made of and what we will be next year."