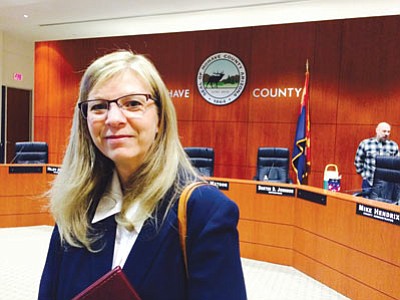 Originally Published: February 3, 2015 6 a.m.
KINGMAN - Seeking new challenges and opportunities, Coral Loyd is leaving the city of Kingman to become Mohave County's new financial services director effective Feb. 17.
The Mohave County Board of Supervisors voted 5-0 at its regular meeting Monday to appoint Loyd to the management position at a $120,000 annual salary.
"It's a huge opportunity for me," said Loyd, who worked 23 years for the city of Kingman, including the last 14 as director of finances. "I had to think long and hard about leaving my comfort zone at the city. With Mohave County, obviously, there a lot of challenges and new opportunities and it's on a larger scope, so it's just very exciting."
County administrator Mike Hendrix said he recommended Loyd to the board after interviewing seven candidates for the job.
Supervisor Gary Watson said he personally met two of the applicants, correcting a comment from Golden Valley resident Steve Robinson that the county interviewed only Loyd.
Robinson credited Loyd for her work at the city, noting that she was within 5 percent of the city's budget balance projection.
"What a find," Hendrix said. "She's a super lady and very well respected. I couldn't be happier."
Board chairman Steve Moss, who conducted Monday's meeting in just over an hour, said he asked people he knows around the community about Loyd.
"You have a stellar reputation," he told her.
In other agenda items:
• The board authorized the Arizona Attorney General's Office to defend Mohave County in Mineral Park Inc. vs. Arizona Department of Revenue. The case involves Mineral Park's abatement request on $16 million in property taxes owed. The mining company is going through Chapter 11 bankruptcy reorganization.
Tom Duranceau, vice chairman of Western Arizona's Joint Technical Education District, told the board he hopes the county continues to defend the property tax collection that is significant for local school districts.
"The school children in Mohave County are paying the price for these issues," he said.
• The board voted 4-1 to accept the Sarah's House lease by Kingman Aid to Abused People and authorize the chairman to sign the assumption and consent agreement.
Mohave County attorney Matt Smith said there were past issues with some bills at Sarah's House, including shutoff of the water, and lack of volunteers, but the house was never closed and services were never completely interrupted.
KAAP is taking over Sarah's House to allow law enforcement agencies to conduct forensic interviews and sexual assault medical examinations in the building, he said.
"I think it's essential for our office and prosecutors to allow exams and interviews to take place at the same facility," Smith said.
Supervisor Buster Johnson opposed the lease, citing the aforementioned problems and a building in disrepair.
He said he also has a problem with subsidizing private businesses, as several private facilities in Mohave County provide similar services.
• The board voted 5-0 to approve the retirement of Mohave County Sheriff K9 Thor to his handler, deputy Sam Ruiz, who is also retiring.
Supervisor Moss removed the item from the consent agenda so he could comment on the "great job" done by Thor and other Mohave County K9 units.
"I like the idea of the sheriff's deputy and the dog retiring at the same time. I hope they go fishing together," Moss said.
• The board voted 5-0 to direct Munger Chadwick business law firm to move for an evidentiary hearing to introduce new evidence and ask to stay the appellate briefings to include expert testimony in the county's appeal of the Bill Williams River settlement act.
The settlement allows Freeport McMorRan to transfer up to 40,000 acre-feet of water a year from Mohave and La Paz counties to its Bagdad mine in Yavapai County.
The action provides up to $40,000 in additional fees for the law firm, bringing the total approved amount to $70,000.