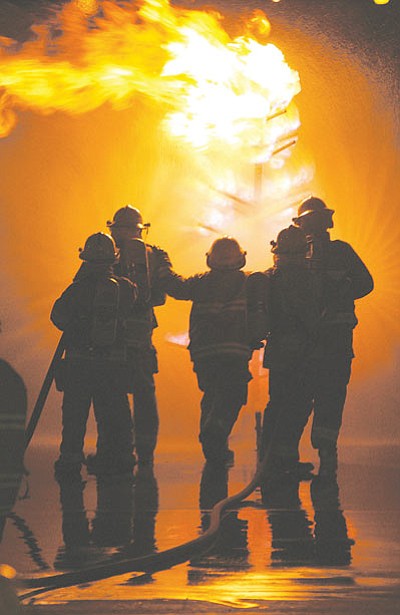 Originally Published: February 5, 2015 6:02 a.m.
KINGMAN - A new continuing education program slated to teach fire science this fall is nothing short of a perfect fit for Lee Williams High School.
After all, the school, which opened in August 2012, calls itself the "Volunteers" in honor of 11 volunteer Kingman firefighters who died while responding to a fire on July 5, 1973, near Andy Devine Avenue. Railroad workers there were attempting to transfer propane from a railroad car to a storage tank when it ignited.
The resulting explosion produced a fireball more than 1,000 feet in diameter. Burning propane rained down on everything nearby, and the remnants of the rail car were propelled over a quarter mile from the explosion site. More than 100 people were seriously injured during the incident.
Richard Lee Williams, 47, the principal of Kingman High School since 1959 and a volunteer firefighter, died in the line of duty that day. The new school was later named in his honor, and its brand, "Be an 11," was coined in memory of Williams and the other firefighters.
In January, the Western Arizona Vocational Education/ Joint Technical Education District approved a $25,000 grant for the new fire science program, called "Let's Get Fired Up." WAVE/JTED awards grants for continuing education classes at Kingman and Lee Williams high schools.
"The kids are really excited about this program," said Gretchen Dorner, principal of LWHS. "I'm a certified firefighter I and II and I've been through it, so I know what they're about to learn. They'll come away with a wonderful set of skills, and the program will add to the culture and climate of being a Volunteer."
Dorner said the two-year program would help prepare students with the planning, organizing, researching, directing and other skills necessary in fire sciences services. Students will develop interpersonal relations, career development skills and the technical knowledge and skills associated with careers in the field.
Those who complete the program, said Dorner, will be prepared to participate in teams, solve problems, think critically and implement effective solutions. Graduates can take state certification tests and either begin their careers as firefighters or continue on to college for a higher degree.
The money from the grant will be used to purchase equipment for the program, including five each of turnout gear, firefighting gloves, suspenders, boots, helmets, goggles, ear protection, and gear bags. The funds also pay for three each of self-contained breathing apparatuses, full-face respirators and cylinders.
During the course, students will learn about the proper use and maintenance of firefighting equipment, from identifying and caring for it to donning and doffing it within one minute. Kingman Fire Department will be available for consultation and vendor networking, as well as assisting in the selection of a course instructor, which is under way now.
Newly elected WAVE/JTED board member Jim Cave, who represents Kingman, voted in favor of the program because he believed it would be good for students, the high school and the community. Cave said he expects the course to be difficult to get into because of so many applicants and the waiting list to be long for future classes.
"It gives the students an opportunity to learn about fire science and a chance to get involved with it and see if they really like it," said Cave. "It gives them a one-up on everyone else who hasn't taken it, and it allows them to stay in Kingman after graduation and contribute to the community. It's a win-win situation."