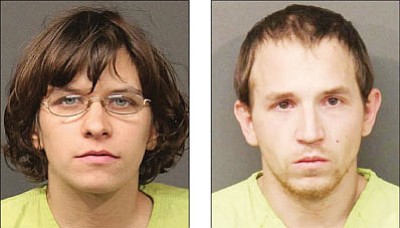 Originally Published: February 5, 2015 10:20 a.m.
UPDATE: CLEVELAND (AP) - The subject of a nationwide manhunt after two slayings and a string of armed robberies in three states has confessed to killing an elderly couple found inside their torched car, a sheriff said Friday.
Robert Clark, 29, was arrested Thursday in northern Arizona after leading law enforcement officers on a high-speed chase into a desert. Two companions who had been traveling with him were also captured.
Tuscarawas County Sheriff Walter Wilson said at a news conference that investigators from two Ohio county sheriff's departments traveled to Arizona to meet with Clark. While being questioned late Thursday, Clark acknowledged killing 88-year-old Doyle Chumney and his 79-year-old wife, Lillian, Wilson said.
Clark has waived extradition. "I wouldn't be surprised if he arrives in Ohio within a week ," Wilson said. He declined to discuss a motive for the killings.
KINGMAN - Mohave County Sheriff's deputies and detectives arrested an Ohio man implicated in the murder of an elderly Ohio couple and two others believed to have participated in armed robberies in three states following the double homicide.
Robert Roy Clark, 29, and Tabatha Marie Hazel, 26, were in a stolen 2003 Dodge Caravan along with 26-year-old Jeffrey Caley Jr. on Interstate 40 near milepost 55 at about eight minutes past midnight Thursday when a sheriff's deputy recognized the vehicle from an FBI bulletin sent out earlier Wednesday, according to sheriff's office spokeswoman Sandy Edwards.
The deputy attempted to pull over the westbound van with Ohio license plates, but the driver refused to stop and instead exited the interstate at Stockton Hill Road and headed north, said Edwards in a statement.
Law enforcement pursued the vehicle until the minivan took off into the desert near Quail Crest Road, well north of Kingman, where it became disabled and the three suspects fled on foot, according to Edwards.
Clark and Hazel were captured and taken into custody just before 2 a.m., but Caley remained on the loose until 10 a.m. after an extensive search involving roughly 40 law enforcement officers from the sheriff's office, the Kingman Police Department and Arizona Department of Public Safety, the Bullhead City Police Department and the Hualapai Tribal Police.
A command post was set up at Stockton Hill Road and Jane Avenue. Caley, who was armed, threatened suicide, but deputies were able to get him to surrender peacefully, said Edwards.
Clark stands accused of killing Doyle Chumney, 88, and his 78-year-old wife Lillian, whose skeletal remains were found in their burned-out 1986 Pontiac about 20 miles from their home in in Strasburg, Ohio, on Jan. 19, according to news outlets in that state.
From there, he traveled to Canton, Ohio, according to Ohio law enforcement, and met Caley and Hazel, Caley's girlfriend.
The trio was headed to Florida and allegedly committed at least four armed robberies; the most recent was Sunday night in Donalsonville, Ga., which is near Alabama and Florida. They are suspects in other armed robberies in West Virginia and South Carolina, according to the FBI.
According to surveillance video, the trio was armed with a handgun and a sawed-off shotgun.
The Chumneys were reported missing Jan. 22, according to the FBI, and their home had been ransacked and the telephone line was cut.
A 21-year-old man was initially arrested on suspicion of murdering the Chumneys, but he apparently implicated Clark.