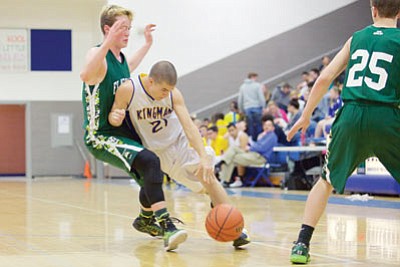 Originally Published: February 5, 2015 6 a.m.
KINGMAN - In a key Division III, Section II matchup and birth into the section tournament possibly on the line, the Lee Williams boys basketball team fell short of a comeback victory and fell Tuesday at Wickenburg, 62-61.
"We had our shots," said LWHS boys basketball coach Ray Smith. "We just made mistakes down the stretch."
The loss puts the Volunteers' hopes of landing the No. 4 spot in the section tournament in serious jeopardy.
Lee Williams (9-9, 4-4) trailed 19-6 early, but fought all the way back.
"They made their first five shots right in our eyes," Smith said. "That was frustrating."
The Volunteers actually took a three-point lead in the fourth over Wickenburg (1-7, 5-3). Lee Williams had a great chance to put distance between itself and the Wranglers after a steal, but the Vols turned it over. Wickenburg hit a long 3-pointer and a free throw and left Lee Williams one last shot at the win. It wasn't meant to be.
"We played some pretty good basketball to get back in it," Smith said. "We just didn't make the plays down the stretch. It's good experience for the kids and was a tough game on the road."
Braxton Burgess led the Vols with 24 points. Chaise Shropshire scored 11, Paul Giglio had nine and Giancarlo Narvarte added seven.
Kael Juelfs ended with four, and Lawrence Campbell, Marco Narvarte and Kaleb Smith each had two.
Lee Williams hosts Kingman Academy (15-2, 7-1) in a season-ending Section II game at 7 p.m. Friday.
GIRLS BASKETBALL: Flagstaff heels Lady Bulldogs
Flagstaff (15-2, 5-0) jumped out to a 20-11 lead at the end of the first quarter and extended it to 52-32 by the end of the third en route to a 65-47 D-II, Section I win Tuesday at Kingman High.
Kingman (11-7, 1-4) was led by Desirae Gonzalez's 38 points. McKell Old Bull scored four points, Kim Carroll and Dani Shaw each finished with two, and Nechell Callado had one.
The Lady Bulldogs wrap up their regular season at Mohave (8-9, 0-4) at 7 p.m. Friday.
BOYS BASKETBALL: Eagles maul Kingman
Too many surrendered offensive rebounds sank the Kingman Bulldogs as Flagstaff (15-2, 5-0) cruised to a D-II, Section I win Tuesday at KHS, 61-25.
It was the 11th consecutive loss for the Bulldogs.
"We got blown out," said KHS boys basketball coach Ron Anthony. "We got outrebounded. It wasn't like they outshot us, they just got three and four looks every time for about 35 points. My kids did battle hard as usual."
Ethan Adams led Kingman (2-15, 0-5) with 10 points. Jordan Dupee scored four, and Anthony Pinto and Abraham Ruelas each added three. Austin Crisil, T.J. Sherman and Robinson each finished with two.
The Bulldogs end the season hosting Mohave (6-10, 1-3) at 7 p.m. Friday.