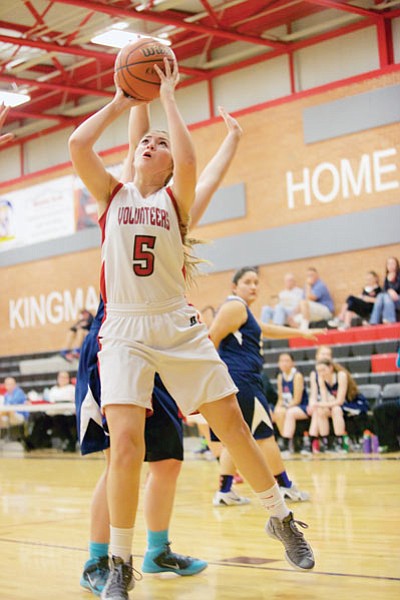 Originally Published: February 6, 2015 6:02 a.m.
KINGMAN - The Lee Williams transition offense worked like a charm after the Lady Vols forced Northland Prep into turnover after turnover on their way to an easy 45-15 season-ending win.
"That was a good way to end it," said LWHS girls basketball coach Cain Atkinson. "I'm proud of them."
Lee Williams used its defense to get easy baskets from within three feet to lead at the end of the first quarter, 13-0. The Lady Vols made it a 26-point lead at halftime, 30-4, and cruised through the second half for the win.
Junior Jackie Millim scored six points, and sophomores Kristin Finch added nine and Mya Radler contributed two.
Lee Williams ended its first varsity season 12-13 overall and 7-11 in Division III as an independent. The Lady Vols will finish ranked approximately No. 46 out of 62 teams in D-III once all games are played this week.
"I felt like we worked hard all season," Atkinson said. "The goal was to get better, and we got better."
Junior Marli Lauck, who scored four points in the win over Northland (4-13 D-III), believes her teams' rookie campaign will prove to be a big stepping-stone for the Lady Vols.
"Even though there are a lot of freshmen on the team, I felt you could see a lot of potential," Lauck said. "For next year, we're hoping to practice a lot over the summer as a team and get into the state tournament."
Freshmen accounted for 24 of the Lady Vols' 45 points in Wednesday's win over the Spartans, including Sadie Snay's game-high 14. Madi Arave scored six, and Mia Santos and Madi McGlathery each had two.
For a first-year varsity program to finish at nearly .500 needs to be applauded. The Lady Vols went through the transition with the expectation that two others were initially named their coach until Atkinson took the reigns.
"Getting a new coach was an adjustment, but it turned out to be probably one of the best things to happen to us," Lauck said. "He and Coach Las (JV and assistant coach Julia Lasiloo) definitely pushed us hard like we needed to be pushed."
The Lady Vols will feature their first senior class next year and will also be placed in a section once the division and section decisions are made by the AIA next week. They very well could be a team to be feared.