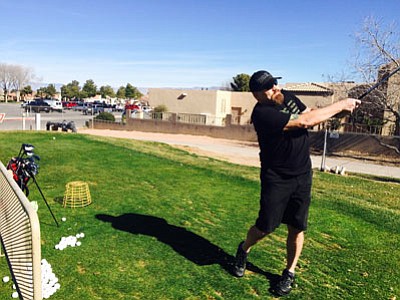 Originally Published: February 6, 2015 6:02 a.m.
KINGMAN - Tanya Christensen took advantage of temperatures in the mid-70s Thursday to study her college algebra at Centennial Park, where children played in the playground and adults traversed the exercise course.
The nursing student at Mohave Community College said the park is conducive to studying, less distracting than home where she has laundry and dishes to do and a 3-year-old who was in child care on this particular sunny afternoon.
"For February, I'm used to cold Oregon," said Christensen, a Kingman native who moved back here a year ago. "That's why I'm out here. It's absolutely gorgeous. This is about my perfect temperature.
"I'm sure it won't stay that way. This is a little teaser."
It's the kind of weather that sells people on Northern Arizona.
Unseasonably warm temperatures are expected to remain throughout the weekend and continue into early next week, spreading springtime fever in early February.
Thursday's high of 76 degrees was 17 degrees above normal and two degrees shy of the record set in 1963.
Temperatures are forecast to stay in the low- to mid-70s with plenty of sunshine and mostly clear skies, said Dan Berc, meteorologist with the National Weather Service in Las Vegas. Overnight lows are in the 40s.
No significant change in weather conditions was observed by NWS.
"We got into a pattern under a ridge of high pressure, so we have a lot of sun and few clouds and quite a bit of solar heating that keeps the storm track north of us," Berc said Thursday. "I don't think we'll hit records, but we may be close."
Bullhead City, Lake Havasu City and Yuma could see temperatures in the low 80s this weekend. The southeast periphery of California could experience a little storm activity, but Kingman and the surrounding areas won't see much of it, Berc added.
"On a day like this, I'll practice all day," said James Berry, a touring pro who was hitting into a slight breeze on the driving range at Cerbat Cliffs Golf Course. "It's crazy. If it stayed like this all the time, we'd probably have 200,000 people in Kingman."
More than half an inch of rainfall was measured on Jan. 30-31, which pushed the monthly total to 1.01 inches, according to a state climatologist at Arizona State University.