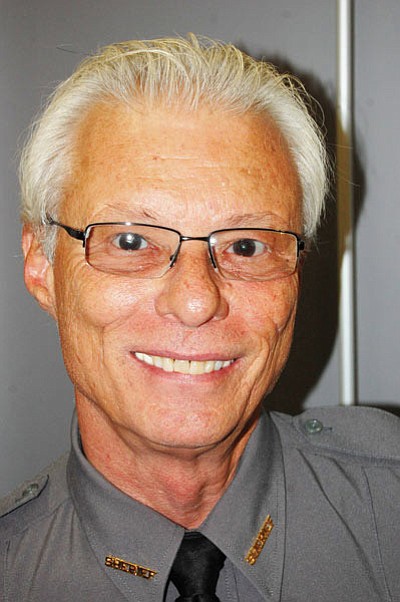 Originally Published: February 8, 2015 6 a.m.
KINGMAN - Sheriff Jim McCabe supports the idea of having his deputies wear body cameras when they're on duty, but he has a couple a question for lawmakers who want to make them mandatory: "How do I pay for it?
"This is an unfunded mandate and it's quite expensive."
McCabe also has concerns regarding the two bills currently going through the legislative process - Senate Bill 1300, sponsored by state Sen. John Kavanaugh, R-Fountain Hills and House Bill 2511, sponsored by state Rep. Reginald Bolding, D-South Phoenix.
"There are a lot of laws out there that have not yet been interpreted," said McCabe. Most of those concerns regard privacy issues.
He used a theoretical law enforcement response to a domestic violence call as an analogy.
"My deputies get to the house and half of the woman's clothes have been torn off. What do I do with that? Is [that captured image] public information? What if a blogger gets his hands on the video and puts it up for public consumption?"
McCabe said these privacy issues must be addressed before he would feel comfortable going forward with body cameras. He said a Seattle citizen made a massive public records request for every video law enforcement dash cams recorded over the course of several months.
The request put in limbo the Seattle Police Department's plan to begin using body cameras - and the anonymous requester told a Seattle newspaper he made the request in order to get people to think about privacy issues.
That aside, McCabe has begun researching ways to fund the purchase of the cameras. He received an informal bid, he said, that would cost taxpayers about $350,000.
The Kingman Police Department spends $15,000 a year for the 15 body cameras officers have been wearing for nearly two years - about half the force - just for the data storage, and about $10,500 on the cameras and mounts.
McCabe, with more than 90 sworn deputies, would pay about $64,400 for the cameras and more than $90,000 a year for data storage if it entered into a similar agreement with Taser Axon, the same company KPD uses.
"Ninety grand a year just for storage," he said. "I don't think that's right. Personally, I feel like I'd like to have them, but the liability and the costs are issues that need to be resolved."
He said he is searching for federal grant money that might help with the costs.
Citizen complaints
McCabe said he met with Kingman Police Chief Bob DeVries and Lake Havasu City Police Chief Dan Doyle. The men lead the two agencies in Mohave County that use the cameras, and both are fervent supporters who say citizen complaints against officers have dropped dramatically.
"I asked them if that was because people are behaving better because they know about the cameras or if officers were behaving better because of the cameras.
"They told me it was probably a combination of both, and so that's a good thing," he said.
"I think, especially in today's climate, they would be a good tool to help deputies, but right now, the question is how the heck do I pay for them?" he said.
"I've got policy written for them and I'm ready to go."