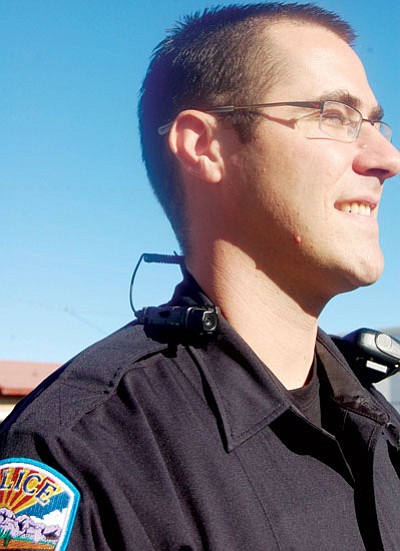 Originally Published: February 8, 2015 6 a.m.
KINGMAN - Protests that erupted after grand juries in Missouri and New York declined to indict officers who had fatal confrontations with unarmed suspects in 2014 have prompted a pair of bills in the Arizona Legislature that, if passed into law, would require every Arizona law enforcement officer to wear a body camera.
Rep. Reginald Bolding, D-South Phoenix, and Sen. John Kavanaugh, R-Fountain Hills, submitted bills that are currently making their way through the legislative process.
The Kingman Police Department is ahead of the game - roughly half of the department's officers wear body cameras.
"We're approaching the two-year mark," said Chief Bob DeVries in an interview. "And it's going very well. We've been very pleased and hope to continue and expand."
One of the primary concerns of opponents of the bills is cost.
DeVries said the actual expense of individual cameras and the mounts used to affix them to uniforms or ball caps is about $700 apiece.
The more significant cost is storing the huge amount of data the cameras create.
Currently, the police department contracts with Taser Axon, which makes the cameras and stores data on the company's secure server.
"The cost of data storage is significant," he said. Currently, the department pays roughly $15,000 annually for storage services.
Officers work 11.5 hours each shift and they can come into contact with many people in that time.
Each time, they activate the camera.
Why get them?
"It was a team decision," said DeVries when asked what led the department to invest in the cameras.
While the department's officers have a well-earned reputation for using restraint when dealing with unruly people, people still filed complaints alleging excessive force.
In 2014, Kingman Police officers made roughly 3,800 arrests and fewer than 1 percent of them resulted in complaints.
"Complaints are down significantly," he said.
DeVries cited a specific complaint that proved to be without merit thanks to the officer's body camera.
The relative of a person who was stopped and questioned alleged the officer was overly aggressive, but the video and audio the camera recorded painted a much different picture.
"We watched the video," he said. "It was a suspicious person call and the officer was extremely cordial. The individual (questioned) was pleasant. The original portrayal was the complete opposite."
While most cameras are worn by patrol officers, one is dedicated to detectives who activate the cameras when they execute search warrants - one of the most potentially dangerous duties an officer can perform.
Officer-involved shootings
Currently, the Kingman and Lake Havasu City police departments are the only two law enforcement agencies in Mohave County whose officers wear the cameras.
Kingman Police investigated a pair of officer-involved shootings Lake Havasu City officers were involved in. In both cases, the officers were wearing cameras and the recorded video and audio made it easy to determine they acted within the department's lethal force guidelines.
"In major incidents involving loss of life, the cameras have proven to be an invaluable tool," said DeVries.
Proposed laws
"The current legislation needs a lot of work," said DeVries, and he is hesitant to suggest what's good for the KPD is good for other agencies.
"They're very workable for us," he said, "and we're strongly in favor of using them, but this needs to be a policy decision from individual agencies."
While he said it's "hard to put a price tag" on the benefits versus the costs locally, larger departments could be forced to spend millions of dollars on cameras and multiple millions of dollars on data storage.
At a recent meeting of the Arizona Association of Chiefs of Police, DeVries said the proposed legislation was discussed and many agencies support the measures, at least in theory.
Association President Roberto Villasenor, the Tucson police chief, at the meeting made a comment that struck home for DeVries.
"He said if you look at this from a national perspective, police officers are involved in millions of encounters over the course of the year and a tiny percentage of them end badly, but we as law enforcement always have room to improve, but let's do it based on facts and not emotion."
So how long before every officer in the department is outfitted with a body camera?
"We don't have any planned in this particular budget," said DeVries. "We've been very budget-conscious because of the economy, but we'll probably seek more in the 2016-2017 budget year. As I said, we're very pleased with the program."
Veteran officer Gabriel Brown said he is a huge proponent. The camera he wears on his hat helped disprove a complaint of excessive force that was lodged against him, but the cameras do more than offer a measure of protection for officers and members of the public with whom they come into contact.
"They help with DUIs, any investigation, really. People try to recant their statements, but we have what they said originally. They really help."
Click for home delivery with comics, grocery deals, inserts, TV listings, coupons and more
More like this story