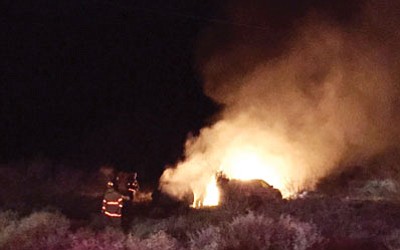 Originally Published: February 8, 2015 6:02 a.m.
KINGMAN - It turned out to be an expensive apprehension Thursday of murder and robbery suspects on the lam from Ohio, as three law enforcement vehicles were burned in a brush fire ignited by one of the vehicle's exhaust pipe.
Mohave County Sheriff's Office lost a 2012 Chevy Tahoe that was used as a patrol vehicle, spokeswoman Sandy Edwards said Friday.
It had all of the typical law enforcement equipment such as a radio, computer and firearms. Edwards had no estimate of the vehicle's cost. She said Mohave County Risk Management is handling the insurance claim.
A marked 2013 Ford Crown Victoria belonging to the Arizona Department of Public Safety Highway Patrol was also destroyed in the fire. The vehicle, fully equipped for use by Highway Patrol, costs about $40,000 new, DPS spokesman Raul Garcia said.
The third vehicle, a 2012 Tahoe assigned to the Arizona Department of Transportation Enforcement and Compliance division, was configured as a police package and had an approximate value of $60,000, according to Harold A. Sanders of the ADOT Public Information Office.
Battalion Chief Jason Scott of the Northern Arizona Consolidated Fire District said the fire could not be attacked. One vehicle was fully engulfed and the other two were starting to burn when NACFD personnel arrived. Firefighters were forced to take cover when ammunition started cooking off and a fuel tank ruptured.
Scott said the ADOT vehicle was the first to catch fire after it got stuck in soft dirt about 100 yards off the road and its exhaust pipe ignited dry brush.
The exact cause of the fire will be determined by fire department investigators, Sanders said.
"The replacement of state owned equipment, specifically motor vehicles is conducted according to state law and administrative rules that govern Arizona's risk management process," Sanders said in an email. "ADOT will be seeking restitution through the office of the prosecutor that will have jurisdiction.
"ADOT was not the primary law enforcement agency for this incident, so any questions regarding costs or other case details associated with the investigation should be directed to the primary agency."
The objects of the pursuit, Robert Ray Clark, Tabatha Marie Hazel and Jeffrey Caley Jr., were captured early Thursday.
Clark stands accused of killing Doyle Chumney, 88, and his 78-year-old wife Lillian, whose skeletal remains were found in their burned-out 1986 Pontiac about 20 miles from their home in Strasburg, Ohio, on Jan. 19, according to news outlets in that state.
From there, he traveled to Canton, Ohio, according to Ohio law enforcement, and met Caley and Hazel, Caley's girlfriend.
The trio was headed to Florida and allegedly committed at least four armed robberies; the most recent was Feb. 1 in Donalsonville, Ga., which is near Alabama and Florida. They are suspects in other armed robberies in West Virginia and South Carolina, according to the FBI.
Click for home delivery with comics, grocery deals, inserts, TV listings, coupons and more