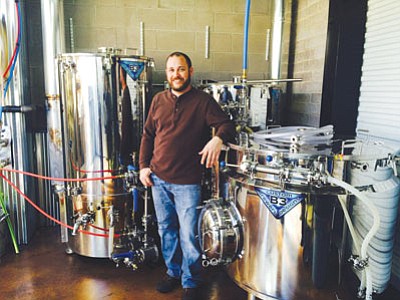 Originally Published: February 9, 2015 6:04 p.m.
PHOENIX - An Arizona Senate committee has passed a bill designed to modernize laws regulating microbreweries whose expanded production is nearing limits requiring them to stop running their restaurants.
The same committee didn't act on a competing bill that pitted small brewers and large beer distributors against wine and spirits distribution companies at Monday's hearing.
The Senate commerce committee hearing was packed with microbrewery owners and employees who wanted the second bill blocked.
The committee passed Sen. Kelli Ward's Senate Bill 1030 on a 6-2 vote. It's intended to allow existing microbreweries that exceed a state cap to keep up to seven retail restaurants while requiring them to get a producers license. The other bill would raise the microbrewery cap four-fold but makes a host of changes to other regulations.
Black Bridge Brewery owner Tim Schritter said Monday that the bill that didn't pass, SB1437, could put him out of business and leave his six employees without a job.
The Arizona Craft Brewers Guild and the Beer and Wine Distributors of Arizona adamantly oppose that bill, which was introduced by Sen. Steve Smith, R-Phoenix.
They contend it would hurt successful businesses and job creators at a time when Arizona is facing a $1 billion budget shortfall.
"It would be illegal for me to sell my beer on the premises for consumption," said Schritter, who opened Black Bridge Brewery in downtown Kingman a year and a half ago. "It's the only way I could make money. I'd have to sell to wholesalers and distributors. You'd have to have a fairly large brewery to have a viable business."
Ward's bill, SB1030, would allow craft breweries to grow beyond the existing 40,000-barrel limit, but does not cause them to close restaurants or pubs or let go of employees, she said.
As craft brewers graduate from microbreweries into producers - that's the 40,000-barrel limit - they won't be forced to close or sell the restaurants and pubs that have proven to be instrumental in growing the craft brewing industry.
The Associated Press contributed to this report.