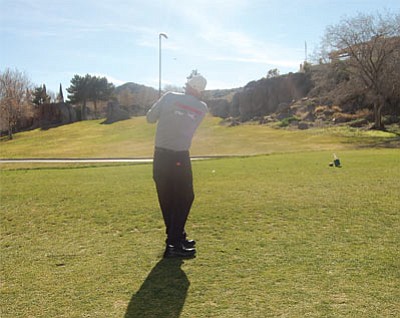 Originally Published: February 10, 2015 6:02 a.m.
KINGMAN - Water conservation efforts throughout the city of Kingman over the past decade have paid dividends, not only at the numerous parks, but also at Cerbat Cliffs Golf Course.
Parks and Recreation Director Mike Meersman at the City Council's Feb. 3 meeting offered an update on what his department has done to conserve and reuse water, prompting Mayor Richard Anderson to note that while the city's population has increased over the past 10 years, water consumption has remained the same.
There are 34 different water systems used to hydrate the golf course and parks, said Meersman, and it is difficult to do year-to-year comparisons since some years are wetter than others.
Watering at eight parks is run by computer-controlled satellites - Centennial, Lewis Kingman, Walleck, South Side, Canon, Cecil Davis, Pawnee and Fire Fighters.
Eleven other parks and green spaces have stand-alone systems - Metcalfe, Monsoon, Locomotive, Mohave, Hubbs, Rambling Rose, the city complex and its fire stations. The train depot, Airway underpass and all roadside landscaping and walking paths also are stand-alone.
Meersman said the city has been aggressive in conserving this most essential-to-life compound and a number of "Mother Nature's variables" play into the city's approach, he said.
They include hot and cold weather, wind, humidity, rainfall and soil type.
Reasoning that healthy turf requires less watering, much of the native soil has been supplanted with better soil. Native soil is extremely low in organic matter, he said, which dries out quickly and requires frequent watering. Treated wastewater is used for composting, which better holds moisture and is high in nutrients.
The original nine holes of the golf course are run by a block irrigation system consisting of 2,221 block stations, which are controlled by electric valves. Four to 10 sprinklers run at a time, with the rate of coverage dependent on what's there - low areas and zones with heavier soils receive less water.
The city also installed smaller sprinklers, which helped guarantee only the turf is watered and nothing else.
The sprinkler patterns have been adjusted to ensure water does not go where it's not needed, such as the desert, parking lots, sidewalks and sand bunkers.
The run time is adjusted every day, he said, dependent on the relative humidity, wind speeds, temperature and soil and turf types.
Meersman said some have complained that watering during the daytime is a waste, but he said watering in five-minute intervals on hot and windy days actually saves water because it cools the canopy, replenishes moisture lost to evaporation and allows for shorter run times at night. Also, areas of parks and the golf course that are overly dry and stressed are hand-watered, he said.
The biggest water-saver at the golf course is an ongoing effort to remove turf from areas considered "out of play" and replace it with desert vegetation.
Also, the creation of 13 water retention areas since 2007 allows pools of water to be contained for a long period of time, allowing more water to help replenish the aquifer.