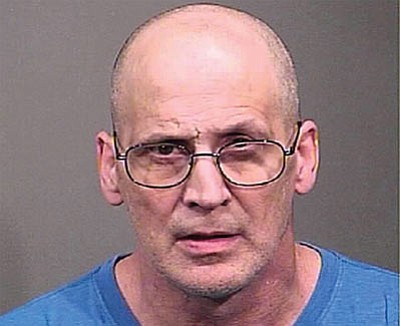 Originally Published: February 11, 2015 6 a.m.
KINGMAN - The prosecutor and defense attorney involved in the murder case against Robert John Adkins might not agree on much, but they do agree jurors will decide the man's fate based on the testimony of Mohave County Medical Examiner Rexene Worrell.
Kingman Police responded to the home Adkins, 52, shared with his roommate, 53-year-old Michael Sudkamp, on Christmas Eve, 2013.
Adkins had called 911 to report Sudkamp did not appear to be breathing.
He advised the dispatcher of Sudkamp's health status, including the fact that Sudkamp had sustained a number of strokes and as a result suffered with partial paralysis. He told them Sudkamp, for whom he was a caretaker, also took a number of medications for high blood pressure, and that his health had dramatically deteriorated over the previous nine months. He said he was showing signs of dementia.
Adkins also said Sudkamp had fallen down quite a bit and would injure himself.
But prosecutor Bob Moon told jurors in his opening statement that none of Sudkamp's health issues contributed to his death.
"He didn't die of disease, he didn't die because of an accident, he didn't fall down ... he was killed."
Sudkamp was a big man, about 245 pounds, and he used a cane, a walker and a wheelchair to get around.
He broke an ankle not long before he died, said Moon, and had been essentially confined to the wheelchair since then.
While Adkins intimated Sudkamp's death could be attributed to a series of falls, Moon noted Worrell's autopsy revealed 27 fractured ribs, breaks so severe she said the ribs "snapped off," said Moon. Some were broken in two sections, making them unstable, and broken ribs pierced both lungs. His death was painful and not particularly quick, he said.
There was "quite a bit of blood in the chest cavity," said Moon.
Worrell, he said, reportedly tried to manually break one of Sudkamp's ribs and was unable to do so.
She also said it took "tremendous force" to break them as severely as they were, the type of force generated by "a plane, train or automobile."
"There was no evidence a piano fell on him, a refrigerator or a car," said Moon. Instead, the coroner stated in her report that the injuries were consistent with someone jumping from a height on to the victim.
Other "signs of murder," said Moon, included "raccoon eyes" that were black and blue, an abrasion on the back of the head, bruising on both sides of his forehead, bruising on his back, abrasions and bruises on his torso, his hips and one knee, and a solid bruise from his right shoulder to right elbow.
When police and Kingman firefighter-paramedics responded to 924 Astor on Dec. 24, 2013, they found Sudkamp's upper body in the standup shower with his legs dangling out.
The home was filthy, and reeked of urine and feces. There was blood smeared in the bathroom, bedroom and kitchen areas.
Police did not arrest Adkins that night. His explanations were plausible and the decision on whether to charge him or not would wait until the medical examiner conducted her autopsy.
On Dec. 27, Worrell told detectives there was "no way" Sudkamp's death was accidental.
But Brad Rideout, Adkins' attorney, was highly critical of Worrell's autopsy. He indicated she broke protocol by calling Sudkamp's daughter in California and told her that somebody harmed her father.
"She went from scientist to advocate," said Rideout. He also criticized Worrell for not performing bone density tests on Sudkamp's ribs.
"There's a way to do that," he said. "It's called X-rays. She didn't feel the need to take X-rays."
Rideout also said his client did not beat Sudkamp to death.
"They were friends," he said. "They met in a homeless shelter. They moved into a motel together and after a while they rented that duplex together. They needed each other."
Rideout also said the men's landlord will testify that Sudkamp had "very thin skin" and that he often injured himself, and that he would simply brush against something and bleed. He even had to remove interior doors to help Sudkamp prevent injuries, according to Rideout.
Moon told jurors they would hear enough evidence to convict Adkins of second-degree murder and vulnerable adult abuse.
Rideout told them the state will not be able to prove beyond a reasonable doubt that Sudkamp was murdered and that Adkins was the killer.
Worrell is expected to testify this afternoon.