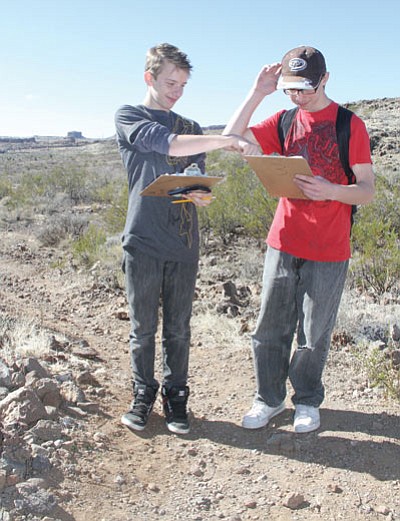 Originally Published: February 11, 2015 6:02 a.m.
KINGMAN - A group of teachers and students from Kingman Middle School were at the Camp Beale Spings Loop recently on the Kingman side of Coyote Pass and off Fort Beale Drive to survey a new trail as part of their outdoors after-school program sponsored by grants from the 21st Century Community Learning Centers.
Grant coordinator Michele Stout and outdoor teacher Anna Kostura were on hand with the Bureau of Land Management to help students survey the trail by documenting elevation changes, slopes and other measurments.
The trail will connect the Camp Beale Springs Loop trailhead with Badger Trail on the Golden Valley side of Coyote Pass.
Students measured slopes and had to find ones with a grade of 8 degrees or less, then flag the trail's future location The BLM already surveyed the area with an archeologist to ensure that no historically or otherwise sensitive areas would be disturbed.
On Saturday, the class will be back out putting the trail in, with the help of the International Mountain Bike Association.