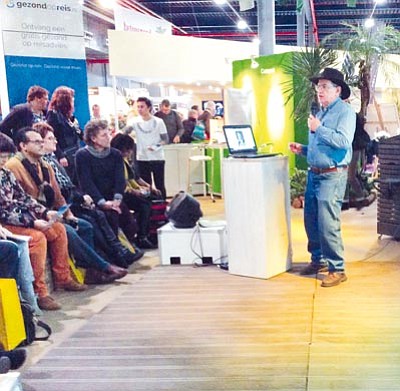 Originally Published: February 12, 2015 6 a.m.
KINGMAN - Almost a month after his first overseas trip to promote Route 66 and Kingman as tourist destinations, local historian and author Jim Hinckley still can't get over the interest in both among residents of other countries.
Hinckley, author of numerous books about the history and mystery of the Mother Road, visited the Netherlands Jan. 7-19 to speak at several tourism events. He gave presentations and answered questions during an open house in Amsterdam hosted by the Dutch Route 66 Association and at Utrecht during the Vakantiebeurs, one of the largest tourism and holiday fairs in Europe.
Off the charts
"This trip confirmed everything I've been feeling," said Hinckley. "The interest overseas in Route 66 and the American Southwest, including Kingman, is just off the charts. What was fascinating to me was how many people there already knew about Kingman and Route 66 and had stopped here. It convinces me more than ever that this area has tremendous potential."
Kingman and its connection to Route 66 are being marketed overseas already, said Hinckley, and it can only help both if the information is positive. Fans devour any news from the area, such as the recent relighting of the old downtown Kingman Club's martini-glass neon sign, that they can find on the Internet.
Local attractions
At the overseas events, Hinckley was able to share information about the Hualapai Mountains, White Cliffs wagon road, Fort Beale, the older alignment of Route 66 and some of the area's unique motels, such as Hilltop and Travatore. Hinckley routinely gives local tours to groups from China, New Zealand, France, Czechoslovakia, Germany and other countries.
In fact, Hinckley is so involved in promoting Kingman and Route 66, he recently was chosen to serve on the steering committee of "Route 66: The Road Ahead Initiative," an organization formed to advance the Mother Road. Its priorities include applying for National Treasure status for Route 66 through the National Trust for Historic Preservation and exploring a permanent federal designation as a National Historic Trail.
Hinckley said he is excited to serve on the committee, which is necessary to provide a centralized support structure for dealing with various issues. Currently, attempts to address problems are fractured, he said, which results in duplicated efforts and wasted resources. It also results in a loss of crucial historic infrastructure, poorly promoted events and an inability to fully utilize the resurgent interest in Route 66 for economic development.
"This is a very ambitious endeavor but it's very doable," said Hinckley. "The idea is to build Route 66 as a community, and Kingman is a part of that community. I'm very honored and humbled to be a part the committee."
Click for home delivery with comics, grocery deals, inserts, TV listings, coupons and more