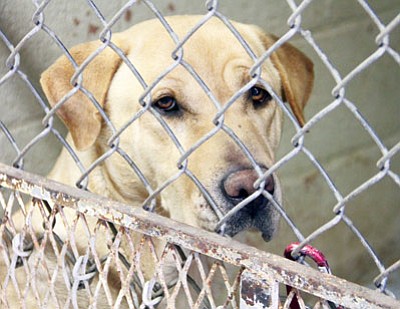 Originally Published: February 12, 2015 6 a.m.
KINGMAN - The smell of fresh paint, the banging of hammers and the click-click-click of a staple gun mixed with the sound of barking dogs early on a busy Tuesday morning at the Western Arizona Humane Society. In back of all that noise was soft music coming through speakers, which seem to keep the animals as relaxed as can be expected.
A few people came in to possibly adopt one of the scores of animals at the facility. An employee of the Kingman Police Department's Neighborhood Services Division dropped off a stray, which will immediately get vaccinated for distemper and parvo, part of the shelter's never-ending efforts to contain and control disease. Cats are provided vaccinations important to their health.
Unlike recent history, the odds are fairly good this particular dog will survive long enough to be adopted or transferred to one of the many rescue animal shelters in the region.
Such a fate certainly wasn't the case a year ago when dogs and cats were put down at a frightening rate.
A no-kill shelter
"We're working to become a no kill shelter," said Mary Hamilton, who became the facility manager just shy of a year ago.
"All the experts say you need a five-year plan, but we think we can do it in half the time."
Under contract with Mohave County and the city of Kingman, the facility houses hundreds of dogs and cats each month. The law requires the animal to be housed for a minimum of 72 hours before it can legally be euthanized. This is to give owners the opportunity to claim the animal.
Prior to Hamilton taking over, many of the dogs and cats were given the mandated three-day reprieve and not one second more before they were killed.
These days, animals sometimes stay as long as six weeks.
"It was a killing factory," said Hamilton with disdain. "There's really no other way to put it."
That isn't to say animals are not put down, but the numbers have dropped significantly.
"It really depends. If the animal is sick or injured, we take it to a vet to be examined. If the sickness or injury is what we consider beyond treatment ... we have no choice."
Overly aggressive dogs are also subject to euthanasia. "It's a public safety issue," said Hamilton. "I have to know this animal is going to a good home, but what if a neighbor, a child or a friend comes over that the dog doesn't like?
"I have to be able to sleep at night."
On this day, there are two dogs that are under a mandatory 10-day quarantine. In order for this to happen, the dog must have bitten someone severely enough to draw blood.
While every dog and cat in both the county and the city is supposed to be licensed and have the rabies vaccination, not every pet owner takes the time to abide by the rules.
For those animals that are healthy and adoptable, the shelter makes room for them rather than put them down.
The "live release rate" at Western Arizona Humane Society in the fourth quarter was 77 percent. The dogs and cats were either adopted or transferred to a local rescue shelter.
In the fourth quarter of 2014 - Oct. 1 through Dec. 31 - a total of 1,104 dogs and cats went through the facility's intake. Slightly more than 700 were dogs and slightly less than 400 were cats.
Of those, roughly 262 dogs and 145 cats were adopted, 90 dogs and 36 cats were taken to a no-kill shelter and 113 dogs and two cats were returned to their owner or guardian.
The remaining 600-plus animals were euthanized, more than 100 of them were brought in by their owners who requested they be put down, 238 were unhealthy and untreatable and 100 were feral cats, which Hamilton said is a huge problem.
Dogs fare much better than cats when it comes to finding homes, said Hamilton. The percentage of dogs that are released to a home hovers above 75 percent, but the percentage falls to about 45 percent for cats.
"Cats have always been an issue," said Hamilton. The large numbers of feral cats that can be found throughout the county skews the figures, she said, noting it isn't uncommon for colonies to have about 100 such cats.
There is an effort under way to spay or neuter them, which has helped, she said.
Creative housing
It's hardly news that the facility has long been inadequate to meet the region's animal shelter needs.
A needs assessment that was done more than seven years ago determined it was too small.
The county recently paid to have kennels painted, insulation installed and other cosmetic upgrades and Hamilton is grateful.
Still, more room would lead to saving more lives. Currently, there are 30 roomy indoor-outdoor kennels and eight half-kennels.
Logically, that's enough to safely house 38 dogs. "Obviously, we have a lot more than 38 dogs," said Hamilton. And that doesn't include the puppy room.
"We play a lot of musical animals," said kennel Manager Marilyn Malakovich with a small chuckle.
Hamilton commingles dogs that get along in the same kennel. Not only does this give her the space she needs in order to keep more of them alive, commingling also helps reduce the animal's stress level and shows potential adopters that it gets along well with other dogs.
When asked what it would take to bring the shelter up to snuff, Hamilton pondered the question for a moment before saying, "We could have 100 kennels and fill them up in no time at all."
The key in saving the animals rather than putting them down lies in an aggressive adoption program and, more importantly perhaps, building meaningful partnerships with the numerous no-kill shelters in Northern Arizona.
"We're rebuilding those relationships," Hamilton said. "It wasn't always that way, but by networking all the shelters we have really expanded our resources. Social media has been huge, too."
In the meantime, Hamilton and her staff will continue efforts to put the humanity back into the local Humane Society.
Click for home delivery with comics, grocery deals, inserts, TV listings, coupons and more