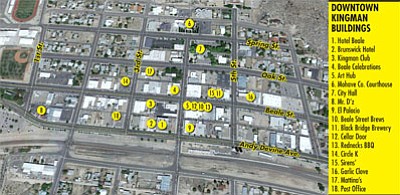 Originally Published: February 15, 2015 6 a.m.
KINGMAN - Nobody places more faith in the potential of downtown Kingman than Swiss real estate investor Werner Fleischmann.
He's got about $2.5 million worth of faith in a portfolio of properties highlighted by the Hotel Brunswick, a National Register landmark on Route 66 and a tribute to the grit and glory those walls have witnessed since they were built in 1909.
The hotel holds special value for anyone born and raised in Kingman, and most of those who've lived here long enough to appreciate its history.
Too bad that value doesn't transfer to the property itself.
The Brunswick is split between the hotel and the restaurant portion, and it's going to take a significant investment to bring it up to modern building codes and reopen for business, Fleischmann told the Daily Miner in a recent interview from Switzerland. He bought the shuttered hotel in 2012.
"Here, we have to wait until the market recovers," Fleischmann said.
That thought seems to be shared by most property owners in the relatively small area defined as downtown Kingman's business district, roughly from First to Sixth streets and from Andy Devine Avenue to Oak Street.
Once clean as a whistle and bustling with business, the district today is cluttered with old buildings that are sitting vacant, decaying and crying out to be demolished for the sake of progress or preserved for the sake of history.
Everyone says downtown has potential. They're just waiting for it to blossom.
SEEDS OF GROWTH
So what's it going to take to spur new development?
"I think progress, particularly for downtown Kingman, is going to be slow," City Manager John Dougherty said. "There isn't a city anywhere with a historic downtown that hasn't had the doldrums and they had to work hard to bring it back. We're behind the eight-ball, but we're making progress."
It's projects like the ArtHub, a studio and gallery with artists-in-residence living in lofts above the studio, that can help rejuvenate the area, Dougherty said.
Developed philanthropically by local home builder Doug Angle, ArtHub opened in January in the Central Commercial Building at Fourth and Beale streets. It was 1,300 square feet of empty space that once served as a bank and post office and most recently as a crafts store.
"I think it's absolutely fabulous," said Shirley Johnson, an eight-year Kingman resident who patronizes Connie's Quilts and other boutique shops downtown. "I can't think of anything Kingman needs more than a little culture."
That culture appears to be driving what little growth Kingman is seeing downtown.
While the antique shops, thrift stores and boutiques bring a few people downtown during the day, it's places such Beale Street Brews coffeeshop and art gallery, The Cellar Door wine and beer bar with live music and Black Bridge Brewery with its younger crowd of craft beer drinkers that are bringing back nightlife.
There's also a collection of popular restaurants and cafes, including El Palacio Mexican restaurant, Mattina's Ristorante Italiano, the Garlic Clove, Sirens' Café and Redneck's BBQ. Fleischmann renovated a portion of Hotel Brunswick's old garage into an ice cream shop and has more space available for possibly a bakery, he said.
Adding to that mix sometime this summer is the rebirth of the Kingman Club, a bar built in 1944 and distinguished by its iconic martini glass neon sign at 312 E. Beale Street.
Terry and Stacy Thomson purchased the bar in November from Toro and Patel LLC of Anaheim, Calif., for something more than the $43,000 valuation shown on Mohave County Assessor's Office records, Stacy Thomson said.
She would not disclose how much is being spent on renovating the tavern and renaming it "House of Hops." It will serve beer and wine only.
The work involves upgrading all plumbing and electrical systems and bringing the building into code compliance for certificate of occupancy.
"You have to expect to put money into an old building," Thompson said. "This building has a lot of potential and the city is working with us to make sure it's done correctly.
"I feel like Kingman is all about the downtown area and we need to keep the old buildings that mean a lot to people that have lived here a long time and keep the history of our town alive," she added.
DOWNTOWN CHARM
Throughout Europe, Fleischmann sees storefronts that were built centuries ago and still attract business owners who live above their shops. It keeps the town vibrant, he said.
"You have consumers, you have money and life and with that it's interesting to have additional shops," he said. "One or two gift shops are nice, not too many. Open a small grocery or bakery. It gives life and at the end of the day it's attractive to tourists. You're not a bad destination."
People get tired of driving after two or three hours on the road, and they're looking for a place to stop and rest, get something to eat and possibly stay the night, Fleischman said.
His idea is to narrow the traffic, slow it down and create a pedestrian-friendly corridor where people can walk from one shop to another.
"Then of course you have to add additional life," he said. "You don't start with tourists. You have to start with Kingman people. Here in Europe, when you're 60 or 70, you sell the house with all the work and move downtown to a flat or apartment. You have more people, you have more activity."
Fleischmann said he's had many discussions with city officials about his plans for Hotel Brunswick and Beale Celebrations, the former J.C. Penney's store he purchased from the city for $350,000. He's re-roofing the building this summer and adding awnings to shade the sidewalk.
Fleischmann, through an investment group with six of his friends, also owns small rental properties at 616 and 620 E. Beale St., one of them occupied by B&G Accounting, and a few weeks ago added another property at 612 E. Beale St. to "make the neighborhood look better," he said.
His group owns three more buildings at 432 E. Beale St., including the former MonkeyButz Blingz 'n Thingz boutique that is now the real estate office of Justin Chambers, and a hair and nail salon.
Fleischmann still sees potential in a town he first visited many years ago.
"You are close to what you should have," he said. "We have to find a way that Kingman gets back to what it should be. I see some future. Williams had a problem, but they found a nice way with traffic and now they have activity. Go to Williams. You can walk from one side to the other. They have life. They have restaurants and stores. You have to concentrate the traffic."
Dougherty recognizes that Kingman has "a ways to go" to catch up with development in other towns along Route 66, but he likes the progress so far.
"I think it'll take a while, but there's a lot of potential," he said. "It's like a diamond. You don't know what you've got until you polish it. Like Route 66. We don't capitalize on it enough. It's a very important part of our city and that's where our tourism comes from."
Click for home delivery with comics, grocery deals, inserts, TV listings, coupons and more