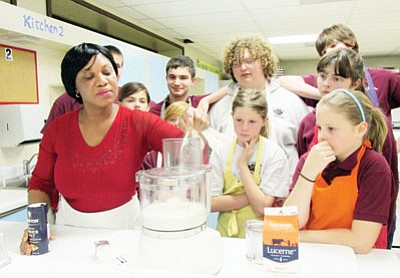 Originally Published: February 16, 2015 6:02 a.m.
KINGMAN - Pumping iron. Building raised brick garden beds. Learning to play the guitar. Organizing a dinner party and cooking for it. Strategizing over domino and chess games. Making butter. Obtaining a food handler's card. Studying homework.
For students at Kingman and White Cliffs middle schools, especially those with low or failing grades, the after-school activities offered at the new 21st Century Learning Centers are a second chance at success. Not only do they teach students unexplored skills, they offer a chance to improve their behavior, productively apply themselves and connect with the community.
The new learning centers have been so successful at the middle schools this year that KUSD is writing grants in hopes of starting them at three more schools. The sites will be chosen by April.
"We're four months into this and so far, we've been received very well by the community and schools," said Sarka White, assessment and professional development director for KUSD. "The students have been a little apprehensive because there's a bad connotation to staying after school. But they've quickly seen they're the drivers of this program and that gives them a sense of being in control. They thrive in that."
For Skye Brambach, 13, an eighth-grader at KMS, that means participating in gardening and hiking, and learning about the animals that roam the high-country desert. Brambach studied an animal skull recently and stroked a thick pelt as part of an outdoor program taught by eighth-grade math teacher Anna Kostura.
"I like this program because it teaches me a lot," said Brambach. "I'm learning about skulls and pelts, and what we should grow in our gardens in Arizona. Something like this teaches kids about their surroundings and other things you usually find out about when you're older. It's fun and educational."
The programs are the result of a 21st Century Learning Centers grant for $1 million the district received Aug. 25 from the Arizona Department of Education that will be distributed over five years, with an allotment of $280,000 this year, to provide after-school services at both middle schools. This is the first time the district has applied for the grant, which was given to 150 sites within the state, including the two at KUSD.
White said middle school is a critical time when students struggle to find their place. The grant, earmarked for high-poverty, low-performing schools, was needed because the district was seeing high truancy and suspension rates, said White. Students were struggling with coursework and overwhelmed by the size of the schools. Their families didn't know how to support them.
The grant has funded two after-school community learning centers that opened in October and feature services and programs for students and their families, including transportation and meals. The sites offer academics, enrichment activities, family fitness and day camps during school breaks. Parents can hunt for jobs over the Internet, learn how to interview or spend time having fun and learning with their children.
The learning centers also promote collaboration between the schools and the community, and several agencies and businesses already have signed up. They are the Mohave County Flood Control District, Little Kids Smiles, Mohave County Public Library and Mohave County Cooperative Extension. KUSD also is looking for partnerships with faith-based organizations and is seeking program ideas from the community.
White said about 200 of each middle school's students still need supervised care after school, but because it hasn't been available in Kingman, their options included hanging out at area trouble spots - Kingman Skatepark and Centennial Park - and engage in inappropriate behavior. Some also interacted with adults who negatively influenced them, she said.
At KMS, coordinator Michelle Stout is offering plenty for about 130 students who stay after school from 3:45-6 p.m. The programs are cooking and nutrition, outdoors, homework center, game and web design, engineering and BMX racing. So far, they have made generators, cooked spaghetti and meatballs for a dinner party, experimented with web design and built BMX bicycles.
"There is a direct purpose with each program," said Stout. "I do walkarounds and I want to see directions and schedules on the boards and that 95 percent of the students are engaged. Students can't be excluded because of bad grades or detention, and so far, we haven't had to send anyone home or have horrible discussions with parents. I've also seen a decrease in negative activity."
At WCMS, the students participate in different types of classes with the same goals as those at KMS. Coordinator Laura Orendain offers guitar, dance, choir, cooking, soccer, science, weightlifting, tutoring, basketball and game strategy. So far, about 60 students are attending the after-school program, said Orendain.
"This program is very beneficial and opens up opportunities for the school that we didn't have before," said Orendain. "We're getting more involved in our families' lives, and that's changing things for the kids. Self-esteem has a lot to do with success, and there's no one judging these students. We're here to support them and make things better for them."
In the "Wolves' Den," a game strategy program at the school, 11-year-old Rope Swats, a sixth-grader, recently sat around chess boards with his friends, challenging them to competitive games. Swats said he began playing the strategy board game with his brother when he was in second grade and joined a chess club when he was 8 years old.
"Chess is my favorite thing and it's my hobby," said Swats. "My brother is 13 and he likes his phone more than chess anymore, so I decided to come here and play instead. I get strategy from this program. It gives me practice and helps me plan my moves."
Both Stout and Orendain said their vision for the 21st Century Learning Centers at each of the schools is to offer more programs and bring more students and their families in after school. The coordinators want to connect students with the community and plug them into areas where they can use their talents and skills for good. White agreed.
"I believe in this program, hands down, and have no reservations about its value," she said. "It offers a chance for students to get introduced to the community culture so they can start thinking of opportunities to get involved. We want them to find their passion."
Click for home delivery with comics, grocery deals, inserts, TV listings, coupons and more