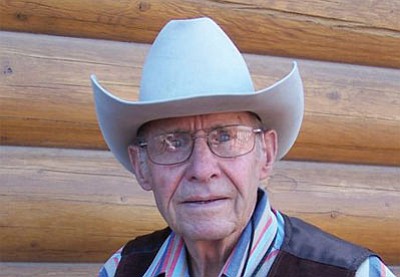 Originally Published: February 18, 2015 6:02 a.m.
Kenneth Blevins of Marysvale, Utah, passed away Monday, Feb. 16, 2015. He was 79. Kenneth was born to Roy and Johanna Blevins July 27, 1935, in Globe, Ariz.
When Kenneth was a young teenager, he and his family moved to Arkansas. There he met and married Eunice Evelyn Hargett on April 23, 1955. They would have been married for 60 years this April.
Kenneth enrolled in the U.S. Marine Corps to serve his country, but shortly after was discharged with scarlet fever. He worked in construction and pipelining for about 10 years, moving his family back and forth across the country as gas lines were being laid. His job on the pipeline was running a ditch-digging machine.
Tired of uprooting their family every few months, Kenneth and Eunice settled in Kingman, where they lived for 37 years. Kenneth served as a fire engineer at Hualapai Fire District and Kingman Fire District for 20 years before retiring to Marysvale, Utah.
During their time in Kingman he also served as a U.S. Coast Guard Auxiliary for many years, and was a member of the Hualapai Four Wheelers ATV Club.
Kenneth and Eunice retired to Marysvale about seven years ago and were avid ATV riders in the Marysvale area. Kenneth often led group rides during the annual ATV jamborees. Kenneth is also famous for building what is fondly referred to as "The Great Wall of Marysvale."
Kenneth is survived by his wife, Eunice; children Sarah Denton, Henry Blevins and Pam Wanner; five grandchildren and four great-grandchildren; and brother and sister Richard (Sue) Blevins and Laura (Roger) Rand. He was preceded in death by his parents, Roy and Johanna, brother George Blevins and grandson Wesley Wanner.
Funeral services will be held at 11 a.m. Saturday, Feb. 21, 2015, at the Marysvale Baptist Church, 180 N. State St., with Pastor Jonathan Edwards officiating. Friends may call from 9:30 to 10:30 a.m. Burial will be in the Marysvale Cemetery with military rites by the VFW Piute Post No. 7561. Funeral directors: Magleby Mortuary, Richfield, Salina and Manti. Online guestbook at www.maglebymortuary.com
The family contact is Kenneth's wife, Eunice Blevins, P.O. Box 268, Marysvale, UT 84750.