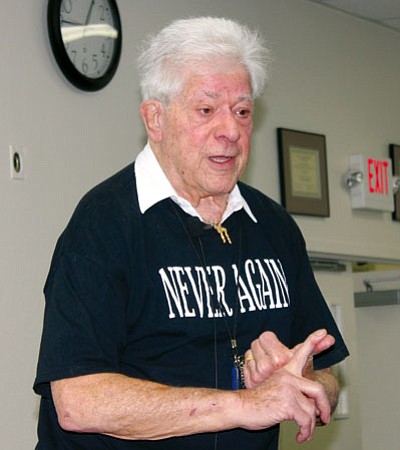 Originally Published: February 23, 2015 6 a.m.
KINGMAN - Never again.
That's the saying Stephen "Pista" Nasser wore on his shirt when he spoke to a hundred members of the community at Mohave Community College on Wednesday. He told of the Holocaust, where 13 million people were killed in one of history's largest genocides. It's a story Nasser knows too well, because he survived it.
Nasser was just a boy when the Nazis took him and his family from Hungary.
"When we were taken away from Budapest, there were 21 from my close family. Out of the 21, I was the only one to survive. At age 13, I was an orphan," he said.
Nasser quickly pointed out that he wasn't there for pity, but that he wanted to bring this story to as many people as possible so that they, too, never forget.
He was a very proud Boy Scout at the time, as well as a student of four languages at school. More than anything else, he was a boy who looked up to older brother Andris.
Nasser and his brother, along with the rest of his family, were taken to a concentration camp during the German occupation of Hungary in 1944.
They were loaded into railroad cars like cattle, herding 80 people up a ramp and cramming them in as much as possible. The last person in would receive two buckets: one filled with water, and an empty one for sewage.
The train ride to Auschwitz took days, and the sewage bucket was easily filled over and over again during the trip. Nasser remembered the smell, and how people near the small windows were charged with trying to dump the sewage out the window, often in vain as it splattered over everyone inside.
One of the most infamous concentration camps operated by the Nazis in World War II was Auschwitz Birkenau in Poland, most commonly known simply as Auschwitz. Over 1.1 million people were killed there between 1940 and 1944, many of them Hungarian Jews subject to the "selection."
It happened immediately upon arrival to Auschwitz. Nasser was 13, Andris was 16, and both were fit enough to work. They were sent to the Muhldorf workcamp in Germany, but not before Nasser saw his aunt and his baby cousin, Peter, get selected. An SS officer took baby Peter from his aunt's arms and started walking away as a fellow officer restrained her. She was pistol whipped while Peter had his head smashed against the side of the rail car.
Nasser trembled a bit as he told this part of his story. The audience at MCC was silent.
Nasser began work on his book at Muhldorf when he started collecting cement bags to draw on. Muhldorf was a work camp in Bavaria where laborers were tasked with constructing an underground bunker factory. The construction wasn't expected to be finished by the time the war ended, but that didn't stop the Nazis from pursuing the project.
Nasser was an artist and loved to draw, but had nothing to draw with. He had smuggled in a pocket knife by hiding it "where the sun don't shine," and when he was in the barracks he would carve sandstone trinkets.
An SS officer noticed one of Nasser's carvings and asked what he wanted for it.
"Not all of them were purposefully cruel," Nasser pointed out. "He just made sure everything was in order."
One day, Nasser's brother disappeared. Nasser searched the camp, asking bunk commanders where Andris was before he found his brother Andris in one of the barracks reserved for those too weak to work who went there to die. His brother was frail, but coherent enough. They hugged and kissed, and Nasser pulled out some food to feed him.
"My little brother, look," said Andris, pointing under his pillow.
He had scraps of food there; food he couldn't eat anymore. Andris was too far gone.
Andris died in Nasser's arms that night.
Near the end of the war, when the Americans neared Muhldorf, the Nazis loaded prisoners into boxcars with plans to execute them in the mountains. Many were also lead off on death marches, never to return.
The trains never made it to the mountains. According to Nasser, the soldiers from Muhldorf took the train of passengers from station to station in hopes that the Americans would capture them.
They eventually did, and Nasser was found unconscious under a pile of bodies and taken to a hospital to recovery, the cement-paper diary clutched in his arms.
Nasser's book, "My Brother's Voice: How a Young Hungarian Boy Survived the Holocaust; A True Story" came from a promise he made to his brother.
"He said, 'I want you to promise me something. You have a weapon. Your diary. That's a weapon. After you get out, I want you to share the diary with the public.'"
He waited until 2003 to publish it because that was when his uncle, young Peter's father, passed away. He didn't want his uncle to know what happened to Peter and his mother.
His goal for his book is simple:
"That it will send a message to future generations to appreciate freedom, family values, and love," he said.
Stephen Nasser now reside in Las Vegas with his wife, Francoise. They both travel and give talks around the nation, telling Nasser's story.
The book was recently adapted into a play and they are currently looking to finance a production. The play is titled "Not Yet, Pista" and references his brother's last words.
A follow-up book, "Journey to Freedom: A Young Boy's Mission to Reclaim the Life he Lost During the Holocaust," will cover Nasser's life after the war. That book is due out sometime this year.
For more information on Nasser's story, contact him via email at mybrothersvoice@aol.com, or visit their website at mybrothersvoice.wordpress.com.
Click for home delivery with comics, grocery deals, inserts, TV listings, coupons and more