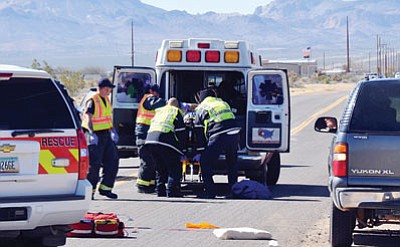 Originally Published: February 24, 2015 4:17 p.m.
GOLDEN VALLEY - A Golden Valley man was injured in a rollover ATV accident in Golden Valley on Tuesday.
The wreck occurred on Chino and San Pedro Roads at about 1:30 p.m. when the man lost control of the vehicle and flipped over.
According to Golden Valley Fire Department spokeswoman Karen Christensen, the man was pinned under the ATV and was unconscious when firefighter-paramedics arrived.
He was not wearing a helmet, said Christensen, and was transported to Kingman Regional Medical Center.
Traffic was diverted for about 30 minutes, said Christensen, and the Mohave County Sheriff's Office is investigating.