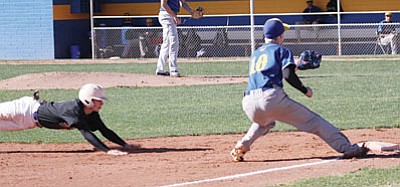 Originally Published: February 25, 2015 6:02 a.m.
KINGMAN - The weather may have turned from a spring to a winter feel, but the high school baseball season opens today with all three Kingman teams in action here in town.
The intra-city rivalry between Kingman Academy and Kingman resumes at 5:45 p.m. at Southside Park Field No. 2. Academy won the season series last year over the Bulldogs, 2-1.
The Tigers begin 2015 after going 23-7-1 overall and reaching the round of 16 in the Division III state tournament last season.
Academy baseball coach Bill McCord expects the Tiger rotation to be the team's strength. Seniors Josh Allen and T.J. Pena are expected to lead the team in innings pitched. However, both hurlers are nursing sore arms. Cody Quick and J.J. Griffith should get plenty of work, and Jeffry Chinyere should also get some opportunities to step on the rubber. Pena is the expected starter against Kingman today.
"T.J. has really stepped it up all around," McCord said. "He's becoming a true leader."
Kingman went 10-18-1 a season ago, and the Bulldogs have only four returning players this year - Jacob Cave, Tyler Julle, Ricky Ogborn and Aidan Dunn.
Julle and Ogborn will be depended upon to the head the Bulldogs' pitching rotation, according to KHS baseball coach Chad Baitinger. Cave will handle most of the catching duties.
Kingman isn't expected to score a lot of runs this season, and costly errors - both physical and mental - will need to be kept to a minimum.
"Our focus is not to beat ourselves, on defense and offense, with mistakes," Baitinger said. "We believe that if we can minimize critical mistakes and execute plays, we can compete with anyone."
The Academy turns around and hosts Ash Fork at 5:15 p.m. Thursday.
Lee Williams also takes the field today. The Volunteers host Mohave at 3:30 p.m. at LWHS. Though the Vols don't have any seniors on the roster, they do expect to be competitive. Lee Williams then hosts Parker at 3:30 p.m. Thursday.
More like this story