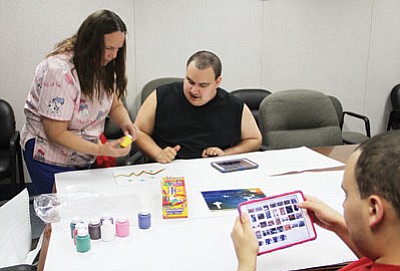 Originally Published: February 26, 2015 9:08 a.m.
Public Services
Although Joan Bandel already has a high school diploma, she actually has walked down the graduating aisle in cap and gown three more times with clients when they received their diplomas.
Bandel, who is a private caregiver providing respite and rehabilitative care for families of children with autism, has helped her clients achieve their dreams of graduating from high school and provided crucial assistance as they learn how to integrate into society.
"With Joan's guidance, all of her clients have made measurable improvements in their development, as well as areas regarding quality of life," said Mona Seeley, who nominated Bandel for the public services category.
"For example, it was perceived that one young adult in her care would always have to use a wheelchair. Joan has been able to assist this person in walking and even in therapeutic equine sessions."
In other words, said Seeley, Bandel is not afraid to try anything new or different to give her clients the best of care. In 2011, she was recognized for that when she won the Arizona Department of Economic Services Division of Developmental Disabilities Caregiver of the Year Award.
Bandel consistently goes the extra mile and isn't afraid to ask for financial and other assistance for her clients. She attends evaluations and doctor appointments, and has been instrumental in finding new speech and occupational therapists for them, as well as acquiring and updating their communication devices.