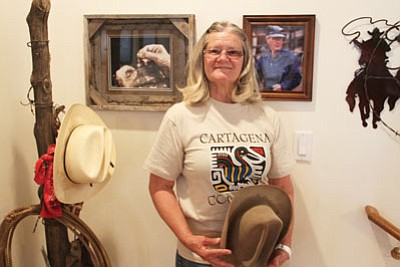 Originally Published: February 26, 2015 9:03 a.m.
Pioneering
When it comes to the spirit of pioneering, the first person to cross Phyllis Eaton's mind is Tommie L. Grounds Upton.
"Tommie and her family have contributed to the community in various ways - public servants, volunteering, charitable works and, of course, doing what they can to help preserve the history of Mohave County," wrote Eaton, who nominated Grounds Upton for the pioneering category. "I feel that Tommie is a good example of a pioneer family member."
Grounds Upton was born in Kingman to not one, but two pioneer families - Grounds and Clack. She was raised on her parents' ranch, and like most rural families at that time, stayed in town during the week when it was time for school. She returned to the ranch on the weekends.
She worked for many years as a teacher's aide and office assistant at Kingman Junior High School. During this time, she would take personal days off to assist her father with roundup and branding every spring.
Grounds Upton married Dave Upton and they established Uptons Hidden Pines Bed and Breakfast on the property, which has been in her family since 1926. Originally constructed as the couple's home, the five-acre parcel in the Hualapai foothills became a Route 66 destination when they opened it to others.
The bed and breakfast, still owned by Grounds Upton, showcases the family's rich ranching history, beginning with her grandfather, William Grounds, and including her father, Howard Grounds. The home features western artifacts once used in the day-to-day operation of the ranch.