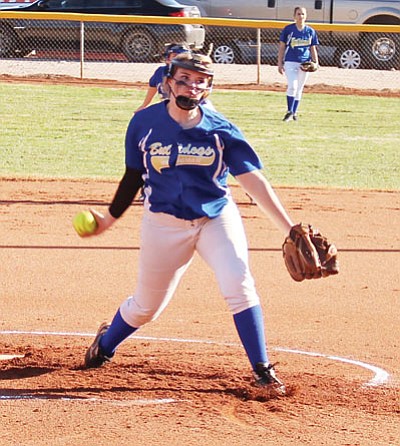 Originally Published: February 27, 2015 6 a.m.
KINGMAN - Sophomore pitcher Natalie Borgens threw a complete-game shutout Wednesday at Southside Park to propel the Kingman Lady Bulldogs past Kingman Academy in the season opener for both teams, 6-0.
Borgens pitched seven innings, struck out six and gave up three hits and two walks.
"If I didn't have my team behind me, there would be no way," Borgens said. "As a team, we did great for not playing together in a long while."
Borgens was in a pitcher's duel with Academy freshman Jessica Plew through four scoreless innings. The Lady Bulldogs broke it open when they scored four runs in the fifth and added two more in the sixth.
Borgens also led Kingman at the plate with four singles and two runs scored.
Senior Kendra Hixson went 3-for-3 with two runs scored. Courtney Gibson, Taylor Olivas and Alana Edgecomb each had two hits for the Lady Bulldogs.
Plew took the loss for the Academy, giving up six earned runs. She surrendered 14 hits and three walks and struck out three.
Dakota Parker doubled for the Lady Tigers, and Kiersten Kinsey and Shaunti Short each had singles.
Kingman plays at River Valley today, and the Lady Tigers are at the Bagdad tournament today and Saturday.
Mohave 11, Lee Williams 2
Mohave ruined the Lady Volunteers' inaugural varsity softball game Wednesday in Bullhead City, 11-2. After being held scoreless in the first inning, the T-birds scored in the next five consecutive innings.
Freshman Mia Santos pitched and took the loss for Lee Williams (0-1). Santos went six innings, surrendered 10 earned runs on 14 hits and five walks. She struck out one but gave up three home runs.
"Mia pitched awesome," said LWHS softball coach Mike Cummings. "She slowed in the fourth but hung in there and finished well."
The Lady Vols strung together six hits and scored their two runs in the third on runs batted in by Khori Cabanovich and Rebecca LeClair. Tori Hummel led Lee Williams with two hits, including a triple.
Lee Williams next takes the field at Odyssey at 4 p.m. Monday.
BASEBALL: Lee Williams 9, Mohave 2
Nate Cottrell and Josiah Rhoads combined efforts on the mound to give Lee Williams its first-ever varsity baseball win against Mohave Wednesday at LWHS, 9-2.
"The kids played a great game," said LWHS baseball coach James Mayfield.
Chase Williams led Lee Williams (1-0) at the plate, going 3-for-3 with a run scored. Cottrell had two base hits for the Vols and scored two runs.
Carter Rhoades, Sean Roby and Matt Shaw each singled and scored for Lee Williams.
The Vols scored once in the first, added five runs in the third and three more in the fifth.
Lee Williams hosted Parker Thursday. Results were not available by deadline.
GIRLS TENNIS
Kingman's Lara Iozzo earned a 6-3, 7-6 (2), win in No. 1 singles over Fiona Carroll for the Lady Bulldogs, but it wasn't enough as Flagstaff took the season opener for both teams Wednesday in Flagstaff, 8-1.
"We play Flagstaff again at the end of the season," said KHS girls tennis coach Laura Hilfinger. "I'm excited to use this match as a starting point to track our team's progress."
Kingman (0-1) hosts Mingus in its next match at 3:30 p.m. Monday at KHS.
More like this story