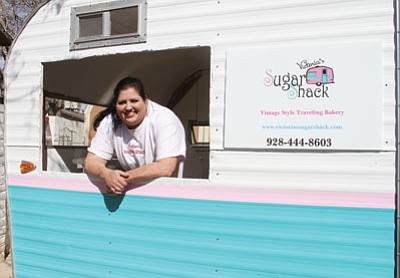 Originally Published: February 27, 2015 6:02 a.m.
KINGMAN - Victoria Tena is hoping to tempt a lot of taste buds at the upcoming Northwest Arizona Women's Expo when she introduces her new vintage mobile bakery.
Tena, who was a baker for KRMC Bakery & Catering, will be debuting Victoria's Sugar Shack, a 1950s-era pink-and-turquoise trailer that will offer hot coffee, cinnamon rolls and other homemade sweets. Her new business, which she opened in November, provides custom cakes and desserts for special events.
"I participated in the expo last year with KRMC, and it was pretty successful," said Tena, who bakes her cakes in a commercial kitchen in Kingman. "But a lot of people are wondering where I went. They thought I just left town. Now the word is getting out about me, and I want to advertise my business to everyone."
Tena is one of vendors who will be offering their wares during the expo, now in its second year. The expo, themed "An Event for the Whole Woman," includes fashion shows, speakers, clothing, jewelry, free bone density testing, free health screenings and a big tea party.
A portion of the expo's proceeds will be donated to Kingman Aid to Abused People, a nonprofit providing support to families in crisis from domestic violence, crime violence, teen dating violence or elder abuse. Expo attendees will be entered to win dinners at local restaurants if they bring in a cleaning supply for KAAP's safe house.
"This event gives women a place to go and see what's available to help them," said Donna Touchette, the expo's organizer. "There are a lot of products and opportunities out there, and we wanted to bring them together in one place to reach the whole woman."
Last year, about 35 vendors marketed their services and wares at Beale Celebrations, drawing about 500 attendees, said Touchette. This year, the number of vendors has ballooned to 85, and Touchette is hoping for several thousand women or more to attend the event.
Local vendors include Herbs and More Discount Health Foods, R & J Arizona Designs, Fringe Beauty Studio, Blue Jewel Pure Water & Ice, and Barbara E. Dorf Holistic Chiropractic & Rehabilitation. Also, True North Yoga, Rafter S Cattle Co., Dirt Road Real Estate, Heaven's Scent Florist and Kingman Turquoise.
Seminar speakers, demonstrations and fashion shows will take place throughout both days, with topics including diabetes education, getting the most out of a doctor visit, self-protection, and breast cancer navigation. Fashion shows feature A-line skirts and leggings, professional and formal wear, and the latest styles in medical scrubs.
On Sunday, a tea party catered by KRMC Bakery & Catering, with finger sandwiches, confections and tea, will take place during the expo.