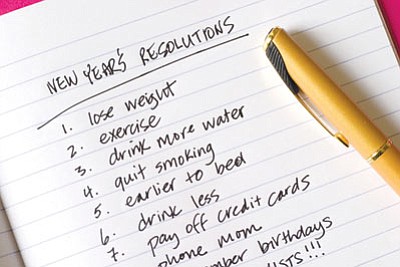 Originally Published: January 1, 2015 6 a.m.
The new year has always been a popular time to reevaluate where we've gone and where we're going, and every year part of that process is making resolutions to fulfill in the coming year.
Making a New Year's Resolution is much easier than accomplishing one, though. It does take work.
"You need to dedicate yourself to a task. It's just like any other habit," said Ron French, adult services clinical director at Mohave Mental Health.
"(If you fail) you have to recommit yourself. Everyone's not perfect. You have to stay at it."
A ranking of the top New Year's resolutions was released last year in the University of Scranton's Journal of Clinical Psychology. It found that 25 percent of people failed to maintain their resolutions through the first week. After six months, over half of people dropped their resolutions entirely.
The study also found that out of everyone (including people who don't make resolutions each year), only 8 percent of people are successful in achieving their resolutions.
Here are some of the top resolutions from that study and tips on how to achieve them this year:
Spend less, save more
This resolution depends greatly on your income stream and your personal financial obligations. The obvious, general advice is to bring in more money than you spend. That sometimes means cutting what isn't necessary for you and your family's well-being and happiness.
Tracking your money and keeping to a budget will help you tremendously, and from there you can identify how much you're taking in and how much is going out. Once you're bringing in enough money to meet your needs, setting aside a little money each month will help you save in the long run. Most people recommend a savings fund that will cover three to six months of living expenses.
Enjoying life
Mohave Mental Health' Ron French stresses that enjoying life is not a state of being but rather a journey with an indefinite destination.
"That's a lifelong quest, for everybody and anybody. Everyone is seeking the experience of a life worth living," said French. "The challenge is to feel satisfied in life, and there are different thresholds for satisfaction. You can't draw a line in the sand for everyone; everyone draws his or her own line in the sand. They have to find out for themselves what is satisfactory."
Staying fit
Jennifer Hardy simplifies what it takes to be healthy:
"Make sure you getting a balanced diet and plenty of water, because as you age your thirst mechanism declines. In your diet, eat plenty of colors (fruits and vegetables) and eat a variety of them."
Dehydration is very common, and even mild dehydration can cause energy loss and fatigue. The Mayo Clinic recommends that adult males drink about 100 ounces of water a day and that adult women drink 64 ounces a day. A good rule of thumb is "drink eight 8-ounce glasses of water a day," and be sure you are getting fluids from other food and drink as well.
Exercise also doesn't need to be extreme to maintain a healthy lifestyle.
"Stay in an exercise routine within your capacity. Stay where you feel comfortable and make sure your intensity level is in a reasonable range."
Learn something
Learning something new and exciting, while its own resolution, is something that can be incorporated as you pursue other goals.
Dr. Ed Widnall from Mohave Community College suggests that education is a key component of successfully implementing New Year's resolutions, whether people are learning a new hobby, improving an existing skill, changing a behavior, or starting a new life adventure.
"Whatever people decide to do in the New Year, they shouldn't expect to instantly achieve their ultimate goal," he said.
"Break your goal up into little pieces and just take little steps. Once you find what is fun and easy for you to do, you feed it with education. Find it and feed it - that's the best New Year's resolution ever."
Quit smoking
There are many strategies smokers can use to help them quit, but ultimately it does come down to support.
"You've got to start somewhere. There's support and help in the community, including the Mohave County Tobacco Use Prevention Program (MCTUPP), to help you do that," said Susan Williams, coordinator for MCTUP and chronic disease prevention.
Williams recommends the 4-Ds to deal with smoking cravings:
• Drink water
• Do something else (walk, hobby, etc)
• Delay - set a time limit before you decide to smoke, to see if the craving subsides
• Deep breathing - take 10 deep breaths
A press release from the Arizona Smokers Hotline (ASHLine) also recommends the following tactics:
• Make a list of the reasons for quitting, such as living longer or tasting food or saving money spent on cigarettes for something else
• Make your quit attempt known to family and friends and enlist their support
• Create a plan to deal with cravings and triggers
• Promise yourself that if you have a relapse, you will simply keep trying and never give up.
Help others with their dreams
The difference between dreams and goals is critical, according to Mohave Mental Health's Ron French.
"We have dreams, but nobody's pursuing their dreams. My dream is to live in Tahiti, but more realistically that could be a goal. That's not metaphorical language anymore. It's tangibly accurate now," he said.
Goals are best achieved by evaluating decisions and making sure they move you in the direction of your goal.
Then, use your time more wisely in achieving that goal.
You can be encouraging and supportive of another person's goals by being curious and inquisitive. French recommends asking questions about your their goals, and to be genuinely interested and ask the questions out of "a friendly curiosity."
Fall in love
"Love is an emotional experience. You can't think your way in or out of love. The cognitive piece and emotional piece are distinct," says French.
Falling in love is the plot for countless films and stories, and there are no general tips for falling in love for the next year.
All single people can do is make sure they are emotionally ready for love, and that takes plenty of self-reflection and evaluation.
Putting yourself in a position to meet people with the same likes and interests doesn't hurt, either.
Staying social and joining clubs or activities that you enjoy will help you meet people with similar interests.
When you do find someone, French offers some advice to help avoid heartache in the future.
"The kinds of thing that attract us to a person initially are generally what don't sustain a healthy effective relationship over time. Go slow, and make sure that person has the attributes you are looking for."