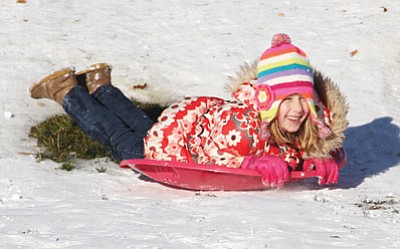 Originally Published: January 4, 2015 6 a.m.
While the New Year's Eve snowfall in Kingman caused plenty of traffic headaches, residents made the most of it in the days that followed.
Top: Payton Lister, 6, was among those sliding it up at Cecil Davis Park on Friday.
Bottom: Snow blanketed the desert on New Year's Eve and stuck around on Saturday, giving our normally brown landscape texture not often seen in Kingman.