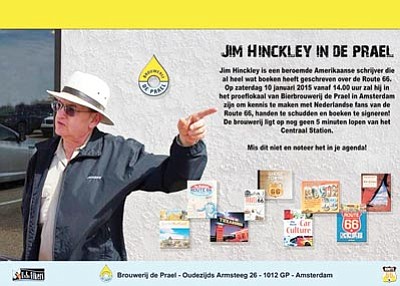 Originally Published: January 6, 2015 6:02 a.m.
KINGMAN - While last year's International Route 66 Festival in Kingman may not have broken attendance records, it did open some unique doors for marketing the Mother Road - and Kingman, one of its many stops- in new places.
Local Route 66 historian and fan Jim Hinckley, author of numerous books about the history and mystery of the Mother Road, will be visiting the Netherlands Jan. 7-19 to speak at several tourism events. This will be Hinckley's first overseas trip promoting both Route 66 and Kingman as tourist destinations.
During an open house in Amsterdam hosted by the Dutch Route 66 Association, Hinckley will answer questions about traveling Route 66, discuss the history of the highway and distribute promotional materials from Kingman.
He will do the same in Utrecht during one of the largest tourism and holiday fairs in Europe.
Also, Hinckley will be meeting with an internationally acclaimed model builder who creates scale miniatures of Route 66 landmarks for museums. He is currently working on a model of Mr. D'z Route 66 Diner in downtown Kingman.
"I think the Route 66 festival here sparked some things and I'm really excited about that," said Hinckley. "The interest overseas in the Southwest and this old two-lane highway that runs through it is growing. So this is a good chance to get information about it and Kingman to people all over the world."
The Kingman festival, which drew about 6,000 people in August, featured three days of art exhibits, book signings, car shows, concerts and a film festival dedicated to Route 66.
City officials used the event to show the 60 percent attending from out of town - including foreign countries - that Kingman has a lot to offer.
Hinckley said Route 66 is a living, breathing time capsule that draws people from around the world who are fascinated with the romanticism of America and the West.
Hinckley regularly serves as host to international groups of tourists visiting the area, and believes tourism can be a catalyst for future development in a city that has struggled to remain solvent during economic downturns.
Last year, he was one of 150 people worldwide attending an exclusive Route 66 summit in Anaheim, Calif., sponsored by World Monuments Fund, an organization dedicated to saving the world's treasured places.
The meeting explored whether the highway could continue to function as a cultural, recreational and economic tool for the eight states it passes through. Route 66 stretches 2,000 miles from Chicago to Santa Monica, Calif.
The summit followed on the publication of an economic impact study completed in 2012 detailing the importance of heritage tourism and historic preservation along Route 66 as a contributor to local, state and national economies.
Rutgers University, The State University of New Jersey, the U.S. National Park Service Route 66 Corridor Preservation Program and World Monuments Fund conducted the study.
It showed that tourists spend $38 million annually in communities along the Mother Road. Preservation programs and museums add about $94 million in annual investments, about 2,400 jobs are created annually and economic activities directly related to the route add about $127 million annually to the Gross Domestic Product.
In other words, the study noted, the preservation of the highway and the revitalization of its communities are key to creating jobs and increasing economic growth.
"The impact is quite dramatic, and we need to take advantage of it here in Kingman," said Hinckley. "We have some of the greatest unknown tourist attractions around, and people need to hear about them so they'll visit us."