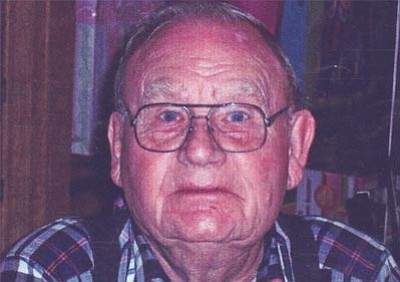 Originally Published: January 6, 2015 6 a.m.
Delbert Elroy Calkins was born on July 15, 1930, in Boone County, Iowa, to Raymond and Lela Calkins. Delbert passed away on Dec. 28, 2014, in Kingman.
He is survived by his wife, Franie Calkins of Kingman; daughter, Linde Todd of Kingman; and son, Raymond Calkins of Phoenix.
He had three brothers, William, Leslie and Marvin, and three sisters, Mary, Millie and Bonnie.
He was blessed with six grandchildren: Pamela McNemar and Will Todd, both of Kingman; Tiffonie Vincent of Vancouver, British Columbia, Canada; and Bryan, Ryan and Jeremy Calkins, all of Roswell, N.M.
He was then blessed with 10 great-grandchildren: Alexis and Isabelle of Vancouver, British Columbia, Canada; Jon of California; Cullen, Haylee and Cayden of Kingman; and Luke, Amitheist, Tanner and Breana of Roswell, N.M.
He will be very much missed by all who loved him, both friends and family. He was a veteran Marine. He was a good father, husband, grandfather and great-grandfather. He was retired from El Paso Gas. He loved garage sales and having a booth at Time Was Antiques store. He enjoyed playing softball for Praise Chapel. He loved telling people wild stories, as well as talking about his childhood. Delbert and Franie just celebrated their 63rd wedding anniversary.
He will be very much missed. He is home with the Lord awaiting our arrival.
Services will be held at a later date. Arrangements were placed under the care of Sutton Memorial Funeral Home.