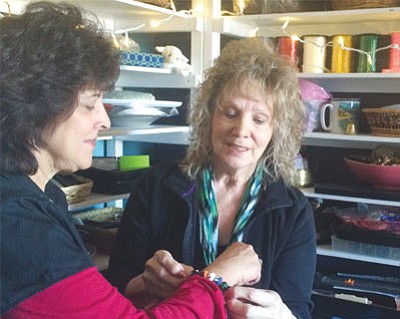 Originally Published: January 8, 2015 6:02 a.m.
KINGMAN - Annie Fuller opened Annie's Art Attic as an act of ministry more than a retail business.
Her 800-square-foot store at 4535 Roosevelt Ave., Suite B, is full of antique furniture, hand-painted dishes, jewelry, artwork, books and other odds and ends donated primarily by the congregation at Journey Church.
Fuller is committed to giving 60 percent of her profits to a nonprofit community group. In December, the first month the store was open, she raised $300 for Angel Manor recovery home.
Annie's Art Attic is hosting three fundraising events in January for Advice and Aid Pregnancy Center in Kingman, which assisted 1,519 families in 2014.
A grand opening with refreshments and door prizes is scheduled for Jan. 17.
"This is a venue, a gathering place where women and men come together for fellowship and encouragement and creativity, and from that comes items that we create and sell to raise money for various causes," Fuller said.
Fuller and her husband, Don, are both retired and collecting Social Security, so she doesn't need to earn a living off the business, she said. That's how she can afford to give away 60 percent of profits. She also gets a discount on rent.
"I clean houses two days a week and the money I make pays the rent," she said. "The goal eventually is not to clean houses two days a week."
Annie's Art Attic is open 9 a.m. to 4 p.m. on Tuesday, Thursday and Saturday.
El Paraiso
Brothers Efrain and Justo Lopez opened El Paraiso tacos and burgers at 702 Eastern Ave. in early December.
The 700-square-foot taco shop in the mostly vacant Grand Tuscan Center sells the usual Mexican fare, along with the Lopez burger mixed with green chili to give it a Mexican flavor, Philly cheesesteak made with carne asada and bacon-wrapped hot dogs.
"We wanted to bring something different to the area," Efrain Lopez said. "We're going to have fruit cocktails in the summer."
Efrain Lopez said he invested about $55,000 in remodeling the former ice cream shop, which has limited inside seating. He plans to add patio tables when the weather warms.
Justo Lopez said word is getting out about El Paraiso on Facebook, and parents are bringing in students from Kingman Dance Factory for burgers and fries.
The brothers considered another location on Northern Avenue, but it wasn't set up as a restaurant. Justo Lopez said he saw a lot of growth along Hualapai Mountain Road, and felt the taco shop would serve the neighborhood with a quick place to eat.
Dentist Office
Dr. Susan Haynes opened Let's C U Smile Dentistry at 1795 Airway Ave. in November, moving just down the road from her previous office with Dr. Paul Williams.
Haynes had considered buying Williams' business and building when he retires, but was looking at another $200,000 in remodeling costs. She found a vacant parcel nearby and decided to build her own 5,500-square foot office.
The office was built by First Generation Builders and financed by Horizon Community Bank.
A 25-year Arizona resident, Haynes graduated in 1991 from Northern Arizona University with a degree in dental hygiene and received her doctorate of dental medicine from University of Nevada-Las Vegas in 2008.
Jimmy John's
Rafferty Construction was issued a commercial remodel building permit in December for Jimmy John's sandwich shop at 3411 Stockton Hill Road. Permit fees totaled $3,415.
The 1,500-square-foot restaurant will have seating capacity for 74 inside and 16 outside, along with a drive-through and delivery service.
It will be the second Jimmy John's in Mohave County for franchise owners Alison and Paul Wofford.
They opened the first store last year in Lake Havasu City.
More like this story