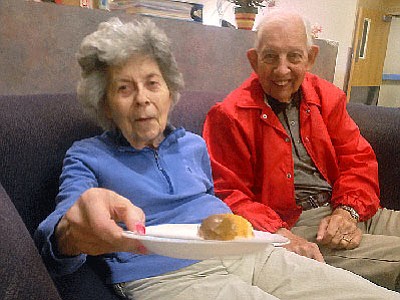 Originally Published: January 9, 2015 6 a.m.
Elaine Morrissette of Kingman, a quiet yet persistent voice in community affairs, passed away on Dec. 30 at Kingman Regional Medical Center after a long battle with Alzheimer's disease. She was 89.
Born Margaret Elaine Smith on Sept. 11, 1925, in Council Bluffs, Iowa, Morrissette spent the last two years of her life as a resident of the Lingenfelter Center for Alzheimer's.
Morrissette was a top flight executive secretary for several firms early in her career, most notably as an assistant to Seattle realtor Robert L. Gans, president of the National Board of Realtors.
With her husband, Robert B. Morrissette, she was co-owner of the Credit Bureau of Kingman with satellite bureaus in Bullhead City and Lake Havasu City.
Morrissette was a lifetime member of the Kingman chapter of Soroptimist International and fought to preserve the lifeblood and vigor of Kingman's downtown civic, business and cultural institutions.
Besides her public and business activities, Morrissette was an early pioneer of healthy eating and health supplements, making regular treks to Phoenix in the 1960s to stock up at Arizona's only health food store at the time.
Morrissette was also known for her progressive ideas in child development, shunning conventional mainstream toys and other widely accepted child activities such as coloring books. She was a devotee of Princeton's Creative Playthings to nurture her children's imagination.
Instead of coloring inside the lines of someone else's drawing, Morrissette provided her two children with large Academie (brand) art pads as a "tabula rasa" for creative expression.
Morrissette had a humble spirit for the needs of the less fortunate and gave much of her time privately to help others as well as through charitable organizations and volunteer work as a member of St. John's United Methodist Church for many years.
Over the years, Morrissette served as an ad hoc member and advisor to various municipal and county economic and cultural study groups and think tanks. She regularly attended city council, school board and other public meetings. Most of the time she listened quietly. But when she spoke, she was widely admired for her grasp of issues, her fastidious attention to detail and strong convictions.
But Elaine Morrissette will be chiefly remembered for her loving relationship with her husband, Robert, a successful businessman and community leader. Having marked 65 years of marriage in June 2014, Robert's affection toward Elaine was visible to the very end. Now 91, Robert drove to visit Elaine every morning seven days a week at the Lingenfelter Center and was by her bedside when she took her last breath.
The Morrissette family is well-acquainted with the story of how Robert and Elaine were interviewed separately before the adoption of Kimberly. Each were asked what was the one thing they most appreciated about the other. Elaine said, "I like his jokes." And Robert said, "Because she laughs at my jokes."
Even on her last day on earth Elaine was still laughing at Robert's jokes.
Besides husband, Robert Morrissette, 91, who still resides in the family home at Kingman, Elaine Morrissette is survived by her son, Jeffrey Morrissette of Los Angeles; and daughter, Kimberly Hopely (with husband, Dale Hopely), of Litchfield Park, Ariz. She leaves six grandchildren: Karen Morrissette, Christopher Morrissette and Ryan Morrissette, all residing in Oregon; Andrew Hopely of Bellingham, Wash., and Bethany Hopely and Samuel Hopely, both of Litchfield Park.
She has 11 great-grandchildren: Kaya Stancil, Jordan Morrissette, Colby Morrissette, Breonna Peterson, Aiden Peterson and William Kok, all residing in the state of Washington; MacKenzie Morrissette, Matthew Morrissette and Dillan Morrissette of Oregon; Bronte Morrissette and Timothy Morrissette of Arizona; as well as numerous nieces; nephews; and cousins in Iowa and Neb.
Elaine was preceded in death by her parents, Clarence E. and Myrtle Smith of Council Bluffs, Iowa; her brother, Clarence E. "Smitty" Smith Jr.; and two sisters, Irene Mellor and Betty Moats.
The family asks in lieu of flowers to please consider a donation to the Kingman Regional Medical Center Foundation, 3269 Stockton Hill Road, Kingman, AZ 86409. Robert served on the hospital foundation board for 10 years before retiring in 2013.
Cremation will be performed by Sutton Funeral Home of Kingman. The family has elected not to hold any services.