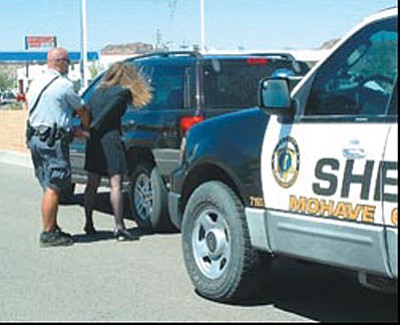 Originally Published: January 14, 2015 6 a.m.
KINGMAN - Longtime efforts to educate people about the perils of driving impaired appeared to pay dividends over the 2014 holiday period between Thanksgiving and New Year's, according to Kingman Police spokeswoman Jennifer Sochocki - and designated drivers appear to be the reason.
Still, more than 28,450 people were arrested for driving impaired in all of 2014, but that's significantly less than in 2012, when more than 32,000 DUI arrests were made.
The good news is, about 14,080 motorists who were pulled over in Arizona in 2014 were sober designated drivers.
"I'm very encouraged by the fact that people understand the consequences," said Alberto Gutier, the director of the Governor's Office of Highway Safety.
Regionally, the Western Arizona DUI Task Force, which includes the KPD, Mohave County Sheriff's Office and the Arizona Department of Public Safety, made 27 DUI arrests, nine that were considered extreme with blood alcohol levels between 0.15 and 0.19 percent between Thanksgiving and the New Year.
They also issued 404 speeding tickets and 235 citations for other traffic offenses out of the roughly 1,400 stops that were made either in Mohave or neighboring LaPaz counties.
The task force in a statement thanked members of the public who called in suspected impaired drivers.
The task force, which also includes the Lake Havasu City and Bullhead City police departments, the LaPaz County Sheriff's Office and the Hualapai Tribal Police Department, operate saturation patrols during all major holidays throughout the year.
Sochocki said the extra patrols help locate "impaired drivers who choose to make the poor decision to drive from a holiday party or drinking establishment."