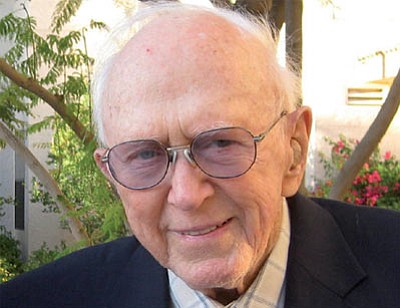 Originally Published: January 14, 2015 6:02 a.m.
Just two months short of his 100th birthday, Earl Gilbert passed away peacefully on Jan. 3, 2015, at Royal Oaks Health Care Center in Sun City, Ariz.
Some Kingman area residents may remember Dr. Gilbert as a radiologist and later chief of staff at Mohave General Hospital in Kingman, where he worked from 1970 until retirement in 1987.
Born in central Illinois on March 11, 1915, Earl was the only child of Perry Maynard Gilbert, originally of Michigan, and Verna Eileen (Swope) Gilbert of Illinois. Perry worked for F.W. Woolworth Co. Since Earl's father was promoted several times, the family moved often and Earl grew up in various cities, including Chicago, Buffalo and Atlanta. He attended two years of college at Emory University in Atlanta and completed his pre-medical studies at Duke University in Durham, N.C.
Earl studied medicine at the University of Buffalo, Buffalo, N.Y. In Buffalo he met his wife of more than 70 years, Victoria ("Viki") Matusak, through her brother, George Matusak, a fellow medical student.
After completing his M.D., Earl served as a medical officer in the Army Air Corps in Burma during World War II.
He returned to the U.S. for a flight surgeon course, but the war ended so he was stationed briefly in Florida. In 1945, he did a residency in internal medicine in Buffalo.
In the late 1940s and early '50s, Earl worked as a tuberculosis specialist and eventually became the director of a T.B. sanitarium in North Riverside, Ill. A number of his patients were homeless men from Chicago. Earl used his favorite hobby, photography, to create educational slide shows that demonstrated good health practices to the patients.
By the mid-1950s, a cure for T.B. and the growth of X-ray technology in treating cancer influenced him to do a residency in radiology at Evanston Hospital, north of Chicago. After working a few years as a radiologist there, Earl took a position in radiology at Highland Park Hospital (Ill.), where he worked for several years during the 1960s.
Earl's love of photography dated from his youth. In about 1933, he went on a canoe trip to Hudson's Bay with a group led by LIFE magazine photographer Wallace Kirkland, from whom Earl learned much about photography. He especially loved photographing landscapes and took several car trips to the West, combining his love for photography with his love of driving long distances. He also loved driving a small cabin cruiser boat and taking the family boating and water skiing.
Later, in his early 80s, Earl even did a solo road trip from Canada to Alaska.
Earl's love of the West led him to "semi-retirement" in Kingman. While working as a radiologist at Mohave General Hospital, Earl sometimes commuted by motorcycle to a hospital in Lake Havasu that lacked a full-time radiologist. Living right near the famous Route 66, Earl and Viki enjoyed more road trips - sometimes in their motor home. They welcomed their grandchildren for visits and provided a swimming pool and other outdoor activities for them in Kingman.
In 1993, Earl and Viki moved to Royal Oaks retirement community in Sun City, Ariz.
In addition to photography, Earl enjoyed painting - especially landscapes and flowers - listening to classical music and playing chess and ping pong.
He loved dogs as well. His father, Perry, had hunting dogs; and while Earl was not a hunter, he often had a dog and taught his children to care for pets. Earl retained a witty sense of humor all his life, even during his last years at Royal Oaks.
Earl is survived by his two daughters, Michele Bourdieu (Gustavo) of Hancock, Mich., and Suzanne Dunn (Thomas) of Cary, Ill.; his grandchildren, Sean Dunn, Eric Anderson, Lisa (Dunn) May, Brian Dunn and Erin (Dunn) Pottorf; and several great-grandchildren. He was preceded in death by his beloved son, Steven, and his dear wife, Victoria.
The family wishes to express special appreciation to the doctors, nurses and staff at the Royal Oaks Health Care Center; to the Highway Christian Hospice of Phoenix; and to Earl's dedicated personal caretaker, Georgia Bond, for the care of Earl in his final years.
Friends and family are invited to make memorial donations to Hands of Hope for a clean water well construction project in Zambia. The well will be named "The Earl and Victoria Gilbert Memorial Well."
Visit the Hands of Hope website at www.handsofhopeonline.org to make a donation online, adding the name of the well in the comment section, or mail a check made out to Hands of Hope to Sue Dunn, 6102 Londonderry, Cary, IL, 60013.