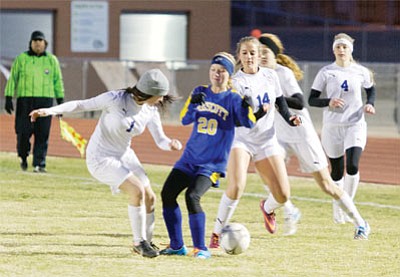 Originally Published: January 16, 2015 6:02 a.m.
KINGMAN - Bulldogs soccer coach Kevin Wilkerson believes it's been five years since Kingman defeated Prescott in a match, but that streak ended Wednesday in Prescott as the Bulldogs took down the Bears, 5-3.
"We played our best game of the year," Wilkerson said. "We controlled the midfield the entire game, and our defense did the best job ever so far this year."
Kingman (6-3 Division II, 1-0 Section V) got three goals from Chandler Baca. Derek Bernier and Daniel Lavertue each found the net once.
Kingman, ranked No. 42 of 72 teams, needs to be in the top 16 or win the Section V championship at the end of the season to advance to the state tournament.
The Bulldogs' section title hopes could be on the line today as Kingman travels to Flagstaff (4-4, 2-0) with kickoff at 3 p.m.
"The Eagles will probably be our toughest game of the year," Wilkerson said. "But I feel we're prepared after tonight's [Wednesday's] win and seeing how the boys played as a team."
WRESTLING: LWHS sweeps Buckeye and River Valley
The Volunteers came away with two wins on Wednesday in Buckeye. Lee Williams (8-10) took down the host Hawks, 44-36, and pinned a loss on River Valley, 46-12.
Kip Penny (285 pounds) protected the Vols in the win over Buckeye. Penny wrestled the last individual match with Lee Williams ahead, 38-36. Penny earned another six points for his team with a 49-second pin over Yance Vosdell. Penny finished the day 2-0.
Trevor Shaffer (145) also had a big win over Buckeye. Shaffer was behind 8-1 but came back to pin the Hawks' Johnny Cano in 3:16.
Big wins against Buckeye kept coming for the Vols. Joseph Wayman (152) was down 5-0 going into the third and final period. Wayman finished with a flurry to outpoint Isaiah Jocobo, 9-8.
Those Lee Williams wrestlers, along with Zach Sanchez (113), Jay Gastineau (120) and Nick Verville (126), each finished 2-0.
The Volunteers next wrestle Cactus and Wickenburg in Glendale at 4 p.m. Wednesday.
GIRLS SOCCER: Prescott 5, Kingman 0
Five days after losing to No. 27 Prescott (6-2 D-II, 1-0 Section V), 10-0, the Lady Bulldogs put in a respectable showing Wednesday at KHS when they fell to the Bears, 5-0.
Kingman (4-5, 0-1) put up an impressive defensive front in the first half. Prescott had 14 shots-on-goal in the opening 40 minutes, compared to zero for the Lady Bulldogs. The Bears led 2-0, but their first goal didn't come until 18th minute and the second was added in the 38th.
For 3-1/2 minutes in the second half, Kingman's defense failed and Prescott poured in three goals over that span. The Lady Bulldogs did keep the Bears scoreless the rest of time.
"Our team played much better this time around," said KHS girls soccer coach Laura Hilfinger. "We hustled and played as a team. I'm proud of the girls and thought they played hard the entire game."
Kingman hosts No. 19 Flagstaff (6-2, 1-0) in section at 6 p.m. today.
GIRLS BASKETBALL: Lee Williams 33, Glendale 22
The Lady Vols busted open a close game by shutting out Glendale in the fourth quarter for a Division III win Wednesday in Glendale. It's the second consecutive win for Lee Williams (3-7).
After trailing at the half 16-14, the Lady Vols outscored the Cardinals 10-6 in the third quarter for a two-point lead heading into the fourth, 24-22. Madi Arave and Sadie Snay each hit 3-pointers in the final stanza to lead Lee Williams.
Arave finished with 12 points, and Snay had eight. Kristen Finch added six, Marli Lauck had four and Jackie Millim contributed three.
The Lady Vols are at No. 24 River Valley (6-3) at 7 p.m. Tuesday.