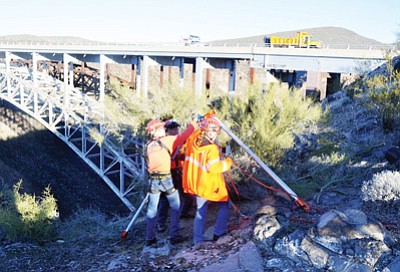 Originally Published: January 20, 2015 6 a.m.
KINGMAN - A Phoenix man died Wednesday after jumping off the Burro Creek Bridge from Highway 93, which is about 15 miles south of Wikieup.
Mohave County Sheriff's Search and Rescue Units responded to the location after receiving a call at 5:53 p.m. from a 30-year-old Phoenix man, that he was about to jump.
An Arizona Department of Public Safety officer confirmed a body was located below the bridge, and the man was determined deceased at the scene.
Search and Rescue members secured the scene throughout the night, as the rugged terrain and evening hours prohibited the recovery team.
On Thursday morning, Search and Rescue members, with the assistance of the DPS Tucson Ranger helicopter, recovered the body and released it to the Mohave County Medical Examiner.
The incident remains under investigation pending the autopsy report.