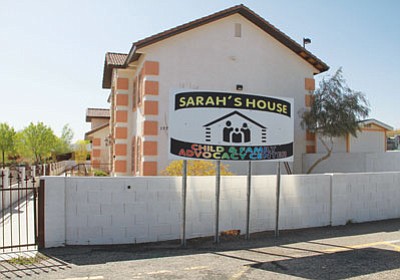 Originally Published: January 22, 2015 6:02 a.m.
KINGMAN - If the Mohave County Board of Supervisors approves a new lease next month, Kingman Aid to Abused People will take over the closed Sarah's House building next month and begin operating out of it.
Suzanne Clarke, executive director of KAAP, said the move creates a clearinghouse for victims of domestic violence and sexual abuse crime throughout the area. KAAP will offer legal and personal advocacy, case management, forensic interviews, sexual assault exams and referrals to community-based resources from the building.
KAAP also provides an emergency shelter for victims of domestic violence and sexual abuse, but it is housed at an undisclosed location separate from all other outreach. KAAP has been operating at 2701 E. Andy Devine Ave., Suite 103A, in Kingman since 2008 and will be celebrating its 30th anniversary in October.
Sarah's House opened in 2000 at 1770 Airway Ave. as a child and family advocacy center, providing a safe place for forensic interviews and exams in child abuse cases and adult sexual assaults for Mohave County, except Lake Havasu City. The move into Sarah's House would expand KAAP's office space from 600 to 6,000 square feet.
Sarah's House Foundation, which ran the house, would dissolve.
"We're going to be able to offer a one-stop shop for victims in a warm, comfortable setting," said Clarke. "They can tell their stories and be examined for sexual abuse in a non-threatening place. We have struggled with funding since 2010 and it has been tough, but it's exciting to know we're growing as one for the cause now."
Sarah's House was named for a 10-month-old girl who died in 1990 of complications from a head injury under the care of the mother's boyfriend. Authorities accused him of murder, while he insisted he left her strapped in a highchair with the tray off while he went in another room and found her unconscious on the ground when he returned.
It took seven years and $500,000 to construct the building, which has served as an evidence collection facility. The county has helped fund support personnel salaries, and it donated the land where the building is located. Because the facility provides services that are required by state law, the county is mandated to assist with finances.
Arizona statues require counties to pay for the cost of evidence collection in cases of sexual assault and child abuse, and Mohave County complied until 2010, providing Sarah's House with about $100,000 a year. Budget cuts that year wiped out the annual payment.
Instead of providing Sarah's House with adequate funding, the county the last four years paid $350 for every forensic examination, which cost $850. The county's portion went to the nurse who performed the examination. Sarah's House picked up the remaining $500.
During a visit, evidence of rape or abuse was collected in an exam room, where the victim and nurse were allowed complete privacy. More than 4,000 victims from throughout Mohave County have been examined and interviewed by law enforcement and Child Protective Services since Sarah's House opened.
In 2013, it facilitated examinations of 50 sexual assault victims and performed 70 forensic interviews of victims of either sexual assault or child abuse. Most of them were children. Sarah's House and another facility in Lake Havasu City are the only two agencies in the county that provide the service.
But the road has been rough lately, and word was out early last year that the organization's coffers were almost empty. Community donations and Sarah's House's two big fundraisers each year - a golf tournament and gala - have underwritten the work there. But the events have not fared as well over the past few years and grants have fallen off.
Clarke actually discovered that Sarah's House had closed its doors last summer when she noticed an unusual bump in the number of sexual abuse calls to KAAP during that time. Clarke said KAAP was getting about 11 percent more calls and she didn't understand why until she drove by Sarah's House and saw a sign referring all calls to KAAP.
KAAP is desperately in need of more space, said Clarke, and this will give it five offices, two meeting rooms, an exam and interview room, and a kitchen. According to Clarke, requests and demands for shelter and outreach supportive service for victims has been on a gradual rise for the past five years.
In 2013, KAAP answered 623 crisis hotline calls, which ranked Kingman 10th of Arizona cities in crisis-call volume by the National Coalition Against Domestic Violence. Kingman was the only rural community in the top 10 Arizona cities overall in crisis-call volume.
"We're coming full circle with Sarah's House," said Sherrol Pitts, president of the KAAP board of directors. "We'll have a complete service for sexual assault now, and not just domestic violence. Everything we're doing goes hand in hand and makes good sense. And we have the full support of the community for this. We've very excited."
Pitts said the house and its prominent location will make KAAP's services more accessible and possibly open the door to additional funding for the organization. Pitts said KAAP would like to add more staff and increase its outreach to the community.
Click for home delivery with comics, grocery deals, inserts, TV listings, coupons and more