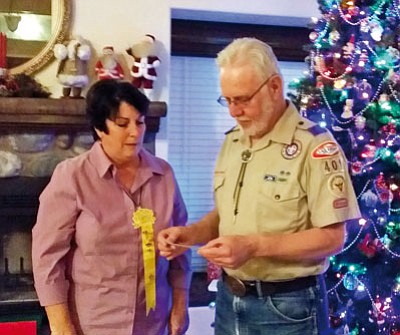 Originally Published: January 25, 2015 6 a.m.
The Laureate Beta Epsilon Chapter of Beta Sigma Phi Sorority met at the home of Chris Fink on Dec. 16 for the annual Christmas meeting and Secret Sister gift exchange.
Members attending were: president JoAnn Reisbeck, Marsha Gatlin, Pat Luelling, Corliss Foley, June Schultz, Rosie Freeman, Camille Patula, Elyse Siokos, Roxie Daniel and hostess Chris Fink.
The guest for the evening was Paula Freeman, a legacy member of our chapter when she was in her teens.
Chris had her home beautifully decorated for the Christmas holidays, served delicious goodies and gave an interesting program on the Colors of Christmas. We then exchanged gifts with our Secret Sisters and other small gifts for all our sisters. Pig in the Poke was won by Roxie Daniel.
Plans were made to meet at the home of Rosie Freeman for a New Year's Day Brunch instead of a New Year's Eve Party, since most of us do not stay up so late to ring in the New Year. 
The 2015 New Year meeting was held at the home of Corliss Foley at 7 p.m. Jan. 8. There were nine members present at this meeting. We received a very nice thank you card from Boy Scout Troop No. 401 for our donation. It was signed by the Scoutmasters and all of the Boy Scouts in the troop.
Corliss presented a program titled "Why 92 percent of New Year's resolutions already failed" and had each member fill out a card on what they would like to accomplish or change during the next year. These cards were put in sealed envelopes to be opened by each member next year to see if they met their goals.
The Pig in the Poke was won by Elyse Siokos. Refreshments of veggies and fruit and a poppy seed cake were served.