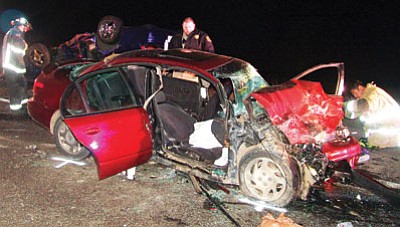 Originally Published: January 26, 2015 6 a.m.
KINGMAN - Four adults and a child were sent to Kingman Regional Medical Center Saturday night following a two-car head-on collision on U.S. 93.
The crash occurred in the northbound lanes between mileposts 68 and 69 at about 10 p.m., according to Golden Valley Fire Chief Tom O'Donohue, who was the first responder to arrive on scene.
Witnesses reportedly told authorities the driver of a Chevrolet sedan with Oregon plates was driving south in the northbound lanes on Coyote Pass when it struck a Saturn sedan carrying three adults and a child.
Firefighter-paramedics with Golden Valley and the Kingman Fire Department responded. O'Donohue immediately requested additional ambulances after determining the driver of the Chevrolet, which landed on its roof, was trapped inside the vehicle as were the four people in the Saturn.
Three adults in the Saturn, which had serious front-end damage, were pinned against the dashboard. The child, who was in a car seat, was the first to be rescued and was immediately taken to KRMC, said O'Donohue.
O'Donohue said Golden Valley crews used equipment to pry apart one side of the Saturn while KFD crews did the same thing on the other side. It took roughly 30 minutes to rescue the final passenger in the Saturn, he said.
Attempts to determine the medical conditions of those involved were unsuccessful on Sunday, but O'Donohue believes the occupants in the Saturn were local as "relatives began pouring in to KRMC" shortly after the crash.
In all, 13 personnel from the two fire departments and five ambulances responded to the crash site, which tied up northbound traffic for about two hours.
A spokesman with the Arizona Department of Public Safety said Kingman Police investigated the crash. A spokeswoman with KPD said only the Kingman Fire Department responded.
More like this story