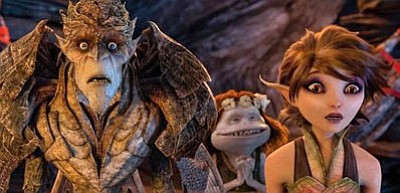 Originally Published: January 26, 2015 6 a.m.
Fantasy creatures sing Billboard's greatest hits! That would be a fitting title for this beautifully animated though plotless film. While the first half of the film drags limply along on the tunes of the 1960s, '70s, '80s, and '90s, the second half of "Strange Magic" delivers a refreshing plot twist that breaks the typical conventions of the fairy princess versus the dark overlord.
On her wedding day, fairy princess Marianne endures a heart break. So she does what any royal fairy would do: She throws on some smoky eye shadow, slips into her warrior outfit, and goes off to practice with her sword before belting out, "What Doesn't Kill You (Stronger)" by Kelly Clarkson. Meanwhile, over in the Dark Forest the Bog King has banned love and imprisoned the Sugar Plum Fairy, the love potion dealer. As in any story with fairies and dimly lit woodlands, someone gets kidnapped and the warrior princess sets off on the rescue.
For families with small children, the continuous music and vivid CGI action should keep little ones mesmerized. The delightful aspect of the movie is that the lyrics of each song coordinate perfectly with the scenes.
For parents who endure animated films through clenched teeth, the two-songs-per-scene may give you a few toe taps but the gorgeous CGI can't overcome the ear-splitting renditions of popular songs. For people who overthink movies - you know, like critics - don't expect any character development or engaging plot or ... dialogue.
The final message for children: Loving a person for their looks is shallow so give someone you would never consider a chance. Yet, remember your dad will pass out if you kiss a teeny brown elf or crusty Bog King.
For families who love musicals and exceptional CGI, this movie gets 2 out of 4 miners.
For families who require character development, a strong plot, and a clear message, this movie gets 1 out of 4 miners.