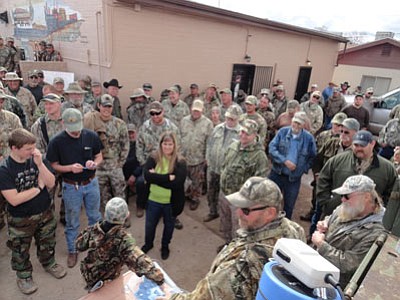 Originally Published: January 27, 2015 6 a.m.
KINGMAN - The annual coyote suppression hunt sponsored by the Mohave Sportsman Club, Antelope Eaters XXVI, is all set to go.
According to Bill Schleeter, the treasurer for the MSC, hunters who want to enter this hunt can now download an application off of the club's website, www.mohavesportsmanclub.com.
Entry forms will also be available at local gun shops this week.
The event will be held on March 7-8, with check in held at the Black Cat Bar in Seligman.
The hunt is designed to remove coyotes from prime antelope fawning areas, and also to assist deer, elk, javelina and turkeys at the time they are starting to give birth and/or nesting
Biologists say that coyotes are the No. 1 predator of antelope fawns in Arizona.
In addition, the Arizona Game and Fish Department will be on hand to take samples from coyotes taken in areas where the federally endangered black-footed ferret live. Coyotes can pass on diseases such as rabies that are fatal to ferrets.
The cost to enter the hunt is $50 for a two-person team or $75 for a three-person team.
Early bird entries will be taken until Feb. 24. Teams that sign up by that time are eligible to win a .223-caliber Savage Axis rifle with a 3x9 power scope.
Late entries for the hunt will be taken up to 10 p.m. on March 6 at the Black Cat.
There will also be numerous raffle prizes that will be awarded to those who participate in the hunt and/or purchase raffle tickets.
Prizes in the raffle include two .223-caliber Rock River Arms AR-15 rifles and an overnight striper fishing trip for two anglers on Lake Mead.
Raffle tickets are $5 each or five for $20 and can be purchased at the MSC range office, at the hunt check-in, and at various gun shops in town.
To assist hunters in deferring expenses who come from all over Arizona, and even from neighboring states Nevada and California, a special drawing for $50 will be held on Saturday night at 9 p.m. and then again at 2 p.m. on Sunday of the hunt.
Every hunter who checks in Saturday and Sunday will get a red ticket. Bring in a coyote and you get another ticket. Then tickets are pulled from a drum and those whose numbers are drawn get a $50 bill.
For more information, contact Schleeter at (928) 718-0784 or club president Ron Hooper at (928) 757-7369.
Information can also be obtained by contacting treasuer@mohavesportsmanclub.com.