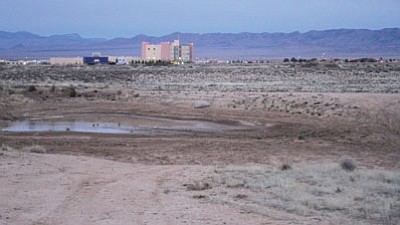 Originally Published: January 28, 2015 6 a.m.
KINGMAN - More than seven years have passed since voters in Kingman overwhelmingly rejected a major amendment to the city's general plan that would have created Kingman Crossing.
An effort to revisit the issue for a second time arose at the Jan. 20 City Council meeting. No current member was on the Council in 2007, but it soon became apparent most of them are familiar with the controversy.
They voted unanimously to postpone taking action so residents can participate in the discussion - which will occur when the Council next meets Feb. 3.
The clock is running - the Council can only make major amendments to the general plan once a year per Arizona law. Voters approved the plan in November's general election, which is on the ballot every 10 years, but Kingman Crossing was not included.
The Council chose the month of May to make any major amendments, but two public hearings in two separate locations must be held before any changes can be made.
Development Services Director Gary Jeppson, on behalf of City Manager John Dougherty, brought up the plan to change nearly 160 acres of city-owned land from its current status as open space and parks to regional commercial.
The plan entails construction of a fourth interchange on Interstate 40. The acreage is located south of the interstate and north of Airfield Avenue between Sage and Cherokee streets.
Councilwoman Jen Miles posed the pertinent question at the Jan. 20 meeting when she asked Jepsson: "What has happened since 2007? Historically, there was large opposition, so what has changed?"
Jeppson said the issue is access. Currently, you can't get to the site from Hualapai Mountain Road. Instead, drivers have to travel down Andy Devine Avenue to Airway Avenue. The access comes from the north and is blocked from the south.
"Why was this not included in the general plan that was approved last November?" said Councilwoman Carole Young.
"There was no interest then," replied Jeppson.
Dougherty said two developers have talked to him about buying the land and the acreage has attracted more interest as the economy slowly recovers.
Dougherty also noted voters will still have a say in the matter since the land is valued at far more than $500,000. Voters, again by state law, must approve the city selling any public asset valued at or more than $500,000.
"We want to get this started now so we can negotiate," he said.
"Are they interested in paying for the interchange?" asked Young. Dougherty said the interchange, which would cost at least $35 million, was never discussed.
In 2007, the estimated cost to build an interchange was $25 million.
Council members said they were concerned with people living in the surrounding subdivisions, which have grown significantly in the intervening seven-plus years.
"Do they want this change?" said Young. "We don't want to repeat history."
Miles suggested the Council postpone taking action in order to give people with a "pro or con" position to participate in the discussion.
The Feb. 3 meeting is pivotal as the Council has a Feb. 12 "drop dead" deadline to decide whether to move forward.
The opposition
The group Residents Against Irresponsible Development fought against Kingman Crossing in 2007. RAID was heavily involved in Kingman's development before the housing market collapsed and the Great Recession took hold.
They are back again, but have not yet taken a stand.
"We really don't have a side at this point because of the City Council's decision (Jan. 20)," said RAID President Mike Bihuniak. "We are really more about getting people involved at this point.
"Our antennas go up when things look like they're being done behind closed doors to circumvent the voters. It looks like déjà vu all over again."
Group members also wonder why the Kingman Crossing plan wasn't part of the general plan just approved.
While Bihuniak and RAID members Harley Pettit and George Cook are quick to point out they don't see a conspiracy behind the current push, they certainly believe most members of the Council in 2007 were not responsive to residents.
In fact, they were condescending and rude, according to Bihuniak.
"Regional commercial"?
"Regional commercial is a wildcard," said Bihuniak. "That means they can put anything they want in there. We hear about developers, but we never hear their plans."
Dougherty agreed with Bihuniak's opinion, but he also said developers are reluctant to share their plans lest a competitor gain an advantage.
It is common practice for local governments to sign non-disclosure agreements in the early stages of development.
Can Kingman support it?
Bihuniak mentioned the so-called "ghost malls" that cropped up nationwide during the recession, and he fears similarly empty malls could be in Kingman's future.
He also worries any developers might put in another truck stop that would adversely affect neighbors through noise, light pollution and increased traffic.
"Regional commercial gives them carte blanche to put in anything they want ... the main thing is, we want people to come out to the (Feb. 3 meeting)."
RAID does support constructing an interchange several miles down the road at Rattlesnake Wash, also known as Rancho Santa Fe.
Pettit is afraid the Council might want to piecemeal the project together.
"How many minor amendments make a major amendment?" he said.
"It smells like dead fish," said Bihuniak.