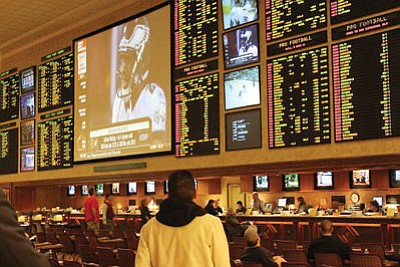 Originally Published: January 30, 2015 6 a.m.
KINGMAN - Wanna bet?
If so, sports books in neighboring Nevada have a staggering number of Super Bowl propositions to choose from.
According to the American Gaming Association, more bets are placed on the Super Bowl than on any other sporting event of the year - and there are more ways to win or lose hard-earned cash on Super Bowl bets than ever before.
Sure, you can head to Laughlin or Vegas and place a boring bet on who wins the game - the Patriots were favored by a point as of Thursday afternoon and the over/under was at 48 points.
If that isn't enough to quench your gambling thirst, or if you just feel like being goofy and laying it all on the line for blind luck rather than breaking down the match-up - which rarely helps anyway - consider these "prop" bets:
• How long will it take Idina Menzel to sing the Star Spangled Banner? The over/under is 90 seconds. If I were Menzel, I'd bet every dime I had, take the over and spend 91 seconds on the anthem.
• Will she flub or forget at least one word of the national anthem? There are going to be more than 64,000 people at the University of Phoenix stadium in Glendale - home to the Arizona Cardinals, who came within a dozen or so injuries of becoming the first team to play the Super Bowl in front of the hometown fans. More than 110 million more will watch the game on TV. That would give anyone the jitters.
• Will the Seattle Seahawks' Marshawn Lynch be fined for any reason whatsoever? The fierce running back has been dinged more than $120,000 this year for everything from refusing to speak to reporters to grabbing his crotch after scoring a touchdown.
• What color will Patriots' coach Bill Belichick's hoodie be (grey, blue or red) and will the sleeves be cut off or left intact?
• Which coach's name will be mentioned first, Belichik or Pete Carroll?
• What will halftime entertainer Katy Perry wear? Pants, shorts or a skirt? What color will her hair be?
• How many times will "deflated balls" be uttered? The over/under on this one is three.
• How many people will watch the game on television? The over/under is 113 million.
• What will be higher: Seattle quarterback Russell Wilson's passing total or the price of gas?
• One of the most popular prop bets involves a beverage, but we're not talking about beer. What color will the Gatorade be that is dumped on the winning team's head coach?
As you can see, there are plenty of prop bets to choose from, but just in case you don't want to leave Kingman, make your own prop bets as you, your family and your friends gather around the tube for The Big Game.
Will cousin Bill eat all the bean dip before anyone else gets a bite?
Which commercial will draw the biggest laugh?
How long before Uncle Fred gets so drunk his inherent bigotry reveals itself?
How many times will high-fives be exchanged?
How far into the game will you get before someone claims the refs were paid off?
How many will call in sick Monday morning?
It's the biggest game of the year. Make it fun.