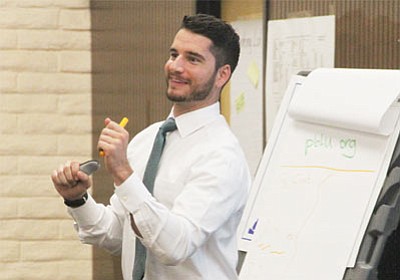 Originally Published: July 5, 2015 5:45 a.m.
KINGMAN - While students are taking a break from hitting the books, their teachers are busy working with coaches and trainers to refine their craft for the new school year.
As part of their professional development hours, nearly 80 teachers attended Kingman Unified School District's June Academy. This year's academy brought in the Center for Student Achievement, a non-profit teacher training group out of Phoenix.
"We provide professional development, data work, coaching, leadership support, and research for schools in Arizona," said Andrew Nelson, one of the five trainers who came to La Senita last week to work with KUSD teachers.
"We're the support wing to support existing schools. All of us taught in low-income environments. We all had really good, successful outcomes with our kids, and we wanted to take that and share that with the schools we work with."
Nelson is working with fellow trainers Justin O'Connell, Carla Rivera-Cruz, Divya Gopal and Jesse Barragan over the next few years with the middle schools in KUSD.
"It's part of an initiative we're doing for instructional effectiveness," said Sarka White, assessment and professional development director at KUSD.
"We'll be working with them over the course of a couple of years, offering targeted professional development based on what those teachers need. These same people will serve as coaches so we can transition better to Arizona career college ready standards."
The workshop last week was designed for experienced teachers like Sadie Malmin, who teachers math at White Cliffs Middle School.
"The biggest benefit is they give us real experience. They actually teach us in practice. So many times we come to these conferences and they talk at us, and they give us good information. It's hard to implement when we come back to the classroom," said Malmin.
"As teachers, we have to evolve every year. Having all of these extra tools gives me the ability to evolve much quicker, teach students in different ways. They're giving me a lot of tools to ensure my students are not sitting passively in class."
Newer teachers were at the workshop also, and seeing this kind of development before setting foot inside the classroom was an empowering experience to get them ready for their teaching career.
"I think this training should be mandatory for all new teachers. It gives you so much insight to start your year off," said Shawna Case, an incoming fourth-grade teacher at Hualapai Elementary School.
"It's giving us different ways to reach different students. Each learning style is different. In multiplication, I was only taught one concrete way. They're giving you eight different ways to teach multiplication."
Socratic Seminar
The training was set up with various breakout sessions throughout the week. One of those sessions involved putting the teachers into a Socratic seminar and showing them how they can evaluate students in a group discussion.
Socratic discussions are designed to work as civil discourse: taking a topic with multiple viewpoints and discussing it without debating or designating winners or losers.
The teachers were given a Robert Frost poem and then asked to discuss the meaning of the text. Interpretations were, as expected, varied.
As the teachers discussed the poem, the instructors of the seminar were tasked on evaluation. Were the teachers staying on subject? Who was holding most of the conversation? Where were questions directed?
After 45 minutes of discussion, the results of the seminar were shared with the teachers to show how they were evaluated and how, as a teacher, they can try to guide these kind of talks in their own classroom. They were also given tools for evaluating large groups, focusing on interaction and positive discussion with peers.
Even as experienced teachers, the participants at the workshop were challenged to discuss the poem, stay on task, and express their feelings and subjective analysis without resulting to a traditional form of debate.