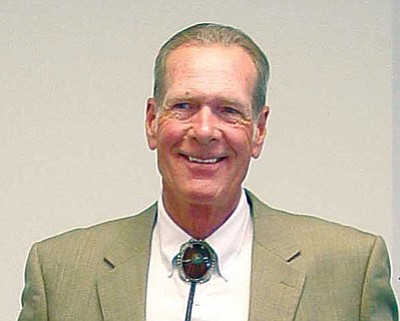 Originally Published: July 7, 2015 5:45 a.m.
KINGMAN - Forget about that promise to balance Mohave County's $80.7 million preliminary budget for fiscal year 2016 without raising taxes.
Mohave County supervisors voted 3-2 Monday to increase the property tax rate by 15 cents in an effort to make up for a projected $3.8 million shortfall in next year's budget.
The increase would amount to $15 more each year on a $100,000 home.
The proposal also would reduce the county's television district tax by 2 cents, from 7 cents to 5 cents for every $100 of property value.
It was a tough decision that came after about an hour of discussion and several alternative proposals that ultimately failed, including a quarter-cent sales tax increase proposed by Supervisor Jean Bishop.
"We know the state is going to continue to sweep funds from Mohave County for the next three or four years," she said. "We continue to go downhill gradually every year and we need to stop that decline."
Supervisor Gary Watson noted that 60 percent of sales tax revenue is paid by people who don't live in Mohave County. The sales tax increase required unanimous approval by the board, and failed by a 2-3 vote.
Board Chairman Steve Moss proposed taking $3 million from the vehicle replacement fund to cover the $2.5 million shortfall created by state "sweeps" and $1.3 million in lost revenue from declining property values. There would be no increase in property or sales taxes.
He also wanted to take $1.9 million from the television district to build up the county's contingency fund, or reserve fund that can be tapped in case of an emergency.
Bishop said she would rather use the vehicle replacement fund to buy graders that would be used to maintain roads in Golden Valley.
She was also worried about unfunded liabilities such as attorneys fees, lawsuits, retirement of public safety officers, paid time off for county employees, building maintenance, paying down debt on the county jail and an animal shelter "that's screaming to be built."
Watson took her side and referred to testimony at the last board meeting by Mohave County Sheriff Jim McCabe that he's operating at 70 percent staffing.
"Is that acceptable to us for the safety of Mohave County?" Watson asked. "Yes, we can kick the can for another year, but there are a number of things that could drain us. We need to make sure we keep Mohave County solvent and not be in this position next year."
Supervisor Hildy Angius disagreed with Bishop's underlying premise that the state would continue to sweep funds from the counties for another three to four years.
"I'm not one of those politicians who say we should never raise taxes, but we're not in that situation this year," Angius said. "I'm not with Supervisor Bishop that we're going to have to raise taxes, so we might as well do it now. If we don't have to this year, why burden taxpayers in Mohave County? Let's be different."
She made a motion for Moss's proposal to take money from the vehicle replacement fund and TV district. It was seconded by Moss, and was voted down 2-3.
The board instructed financial services director Coral Loyd to prepare a tentative budget based on the property tax increase for adoption on July 20. Final adoption of the budget is scheduled for Aug. 3.