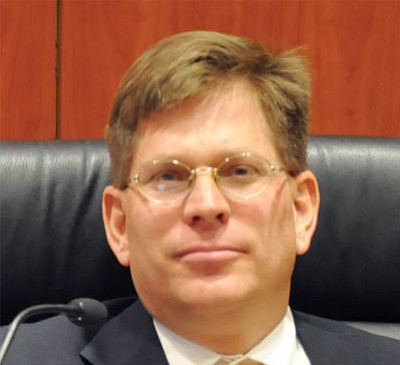 Originally Published: July 8, 2015 5:45 a.m.
KINGMAN - A proposed revision to Mohave County's paid time off policy is "unjust and potentially catastrophic" and a "slap to everybody's face," according to the dozen-plus county employees who spoke in opposition to the change Monday.
Every speaker was supported by applause from about 60 county employees who attended the regular meeting of the Board of Supervisors.
The proposed new policy would reduce the amount of paid time off accrued each pay period by new employees hired after July 1 and would cap the number of hours that can be carried over by current employees from year to year and cashed out upon retirement or separation.
Carryover PTO would be reduced to 600 hours on June 30, 2016, and to 400 hours on June 30, 2017. The current limit is 900 hours, or roughly 22 weeks of pay. Cash-out would be reduced to 400 hours in 2016 and 250 hours in 2017.
The board voted 5-0 to send the policy back to Human Resources Director Ken Cunningham. He will come up with a "blended policy" based on three or four different PTO proposals and bring it back within 60 days.
Supervisors will make final adjustments and send the policy out to a third-party counsel for legal review.
"Obviously, we hire employees with a benefits package and many people come to work for that benefits package," Superior Court Clerk Verlynn Tinnell said. "I would be very upset if someone comes in and takes my benefits away that I've worked for."
County employees no longer have short-term disability insurance, so they were told to save PTO for emergencies and times when they might need it, Tinnell said.
Justice of the Peace David Huerta said he's worried the county will lose quality employees because of the new policy, and that it would "jeopardize" the opportunity to draw new quality employees.
"I'm sure this is a tough issue. Maybe we can come to some type of compromise in the future," he said.
Several employees mentioned "low morale" in the workplace.
Paid time off is a benefit for employees, not a "gratuity," said Jim Parks, executive director of Arizona Conference of Police and Sheriffs.
Ten probation officers have quit their jobs in Kingman, and several others have left in Bullhead City and the Arizona Strip. More than 70 deputies have left in the past 10 years, which is a horrible turnover rate and a waste of $100,000 in training for each deputy, Parks said.
"How many more deputies and probation officers will walk away from Mohave County?" he asked.
Many current job openings at the county require an advanced degree, and it's going to be difficult to attract those employees without enticing benefits, Greg Vanderveer said. A lot of potential candidates come from other states and will want paid time off to visit their families, he added.
Mohave County probation officer Emily Flood is one of those younger employees with an advanced degree. She said she carries an "intense" caseload and works with high-risk offenders. Taking away her paid time-off benefits would create an emotional strain, she said.
"I won't plan on staying here and being loyal to the county if you take away my benefits," she said.
Board Chairman Steve Moss took some heat from employees for proposing changes in the PTO policy. He said the new policy better reflects what's offered by businesses in the private sector, which is about three weeks' vacation a year.
"If you have 900 hours in the bank, nobody will take them from you," Moss said. "What my policy does is change the rate for future accrual. PTO is not to be cashed out for tens of thousands of dollars when you leave. It's take it or lose it."
Mohave County is on the hook for about $6.1 million in paid time off owed to current employees, Finance Director Coral Loyd told the board.
Supervisor Hildy Angius said she hopes the county can "come to the middle" based on reports from other counties regarding paid time off.
"As uncomfortable as this discussion is, I'm happy we're having it," she said. "I don't think we can legally take away paid time off. I was hoping our HR department would do a better job coming back with something, to be honest. I don't believe in reinventing the wheel. It's not necessary. Other counties have gone through this pain and it's mapped out how they do it."
Supervisor Buster Johnson recommended changing PTO to vacation time and sick time, so that anything over the maximum carryover time could be transferred to sick leave for short-term disability.