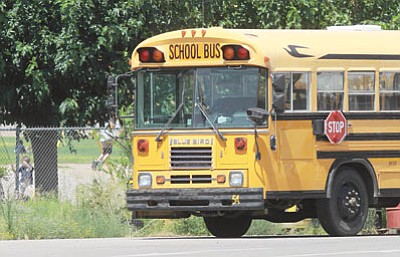 Originally Published: July 9, 2015 5:45 a.m.
KINGMAN - It's too bad Roger Jacks isn't a magician.
If he were, the superintendent of Kingman Unified School District could pull money out of a hat to help fund the staff, equipment and programs needed for the 2015-2016 school year.
As it is, he's facing one of the district's tightest budgets in recent history.
"It's hard for us, because we're trying to maintain our philosophy of growing our programs," said Jacks. "We're trying to make the district better, but it's difficult when costs are up and revenue is down. This is one of the tightest budgets we've seen, and we have cut every place we can."
The budget for the upcoming year is a little more than $59 million, with $29.4 million of it coming from funding on the local, state and federal levels. The remainder of the budget is generated by property taxes and federal grants.
Much of the district's money is spent from the maintenance and operation fund, which totals almost $36.3 million this year. Of that, 57 percent, or about $20.7 million, is earmarked for salaries and 24 percent, or about $8.6 million, goes for employee benefits.
Also, 10 percent, or about $3.8 million, is used for services, which include contracts with outside vendors, and 8 percent, or about $2.9 million, will go towards the cost of supplies. Another 1 percent, or about $228,000, is set aside for other miscellaneous expenses.
The district's financial troubles started in 2007, when KUSD enrollment began decreasing because of the area's economic turmoil. The situation worsened as the state suffered a financial crisis in 2009, leaving little money for education. While the outlook has improved some, it's still troubling to educators.
A little more
Jacks said that while the district will be receiving new funding this year from the state, it will be swallowed up by other pressing needs. The money comes from a 1.59 percent rise in inflation and the $74.4 million figured in by the state as initial payment on an inflation-related lawsuit.
The district would see an increase of $54.31 per student this fall, said Jacks, which translates to about $800,000 more in its budget. But in Kingman, that money will be gone almost as soon as it's sent to the district, he added.
KUSD will be shelling out $160,000 more for its employee health insurance plan, which was replaced this year after the former company increased the price by $800,000. Jacks said the district just couldn't afford the steep cost.
And because of the Affordable Care Act, long-term substitute teachers who work 30 hours a week must be offered insurance by the district, at a cost of about $200,000. Jacks said that before, they had to work a minimum of 35 hours to qualify for insurance.
Also, the district's governing board unanimously agreed in April to approve a 2 percent raise for all classified and administrative employees, and a 3 percent raise for certified teachers. The raises would cost the district about $600,000 for classified, certified teaching and administrative staff, with another $150,000 increase just for certified teachers.
The district has about 650 classified and administrative staff, and about 350 certified teachers.
Enrollment
Another financial hit to the district comes from a decrease in the number of students, said Jacks. The state has determined that the district will have 100 fewer students this fall. Jacks is predicting an enrollment of 6,900 to 7,000 students this year.
If KUSD receives the minimum $5,000 per student and the state's numbers hold, that will translate to a $500,000 loss in revenue.
Jacks said yet another financial issue for the district is its special needs population. While the number of students has remained the same, the severity of their disabilities has increased, forcing the district to spend more money to adequately serve them.
During a recent meeting with federal officials, Jacks asked why those students' needs weren't funded better. He was told that the U.S. Congress only provides 80 percent of the money, which means each district picks up 20 percent.
Other needs
Financial cuts are taking place on the state level, too, said Jacks. While the district is receiving more money for maintenance and operation, it is getting much less in District Additional Assistance funds. This year, that money has shrunk from $3 million to about $469,000.
"DAA was originally called the capital fund, and is used to buy computers, furniture and buses, and to repair our facilities," said Jacks. "We're only getting 15 percent from the state budget. So if a school district hadn't banked money in the past and built that account up, how would it make ends meet now?"
Other needs include funding for several new programs in the district, including $100,000 for a STEM academy that will prepare students for science, technology, engineering and mathematics careers. About $100,000 is needed for a middle-school alternative school, and $50,000 for an elementary-school special needs classroom.
Jacks said the district has cut shamelessly to survive, including classified and district staff, from administrators to custodians. Last year, KUSD let go of most of its school librarians - only those at the high schools and the district librarian remain - and replaced them with para-educators.
The district also increased its class sizes and adjusts the number of teachers when enrollment goes down. Average class sizes now are 34 students to one teacher in high school, 32 students per teacher in middle school, 30 students to one teacher in the upper elementary grades, and 28 students per teacher in the lower elementary grades.
Also, KUSD has restructured its transportation routes this year so they will be more cost efficient, said Jacks. The district's goal is to reduce its fuel costs by $100,000 while still offering the services it has in the past.
Other cost-cutting options include scaling back on supplies for each school and looking at better uses for substitute teachers, added Jacks. Over the years, they have filled in for teachers participating in professional development on the district's tab.
Now those teachers must get grants.
"We're going to make it, but it's going to be tight," said Jacks. "These are some of the areas that we're focusing on right now. It's challenging, but our goal is to give parents the service they're used to while absorbing the costs in the classroom. We'll do our best to get through this."
More like this story